Bring the nation's favourite bird into your garden with Peckish Robin Insect Seed Mix. The familiar colourful red breast of the Robin will help to brighten up your garden. With a mix containing mealworms, the Robin's favourite food, you are sure to see one in your garden.
Enjoy the Robin in your garden
Added insects for a natural diet
With added Calvita® Vitamin Mix
Use with a Peckish Seed Feeder
Sizes available
Product Details
How to Use
Tips & Advice
Why Use Peckish Robin Insect Seed Mix
1. Perfect for Robins
All ingredients are selected to attract Robins and other songbirds to your garden.
2. High in Protein
Enriched with mealworms – a favourite of Robins.
3. Calvita® Vitamin Mix
Enriched with our unique blend of vitamins and nutrients that garden birds need to stay healthy. Calvita includes…
CAROTENOIDS – Develops feather colour and protects from sunlight damage
CALCIUM – Promotes bone & feather growth and essential for egg production
VITAMINS A,D,E & BIOTIN – Strengthens beaks & bones and helps growth & reproduction
Ingredients
Pinhead Oats
Kibbled Maize
Naked Oats
Sunflower Hearts
Red Millet
Kibbled Peanuts
Kibbled Wheat
Mealworms (2%)
Suet Pellets (Wheat Flour, Beef Tallow, Calcium Carbonate, Kibbled Peanuts, Dried Mealworms)
Oyster Shell Grit
Additives: Glycerine
Colourant
Expected Results
Peckish Robin Seed Mix will attract the following birds:
Robin
Blue Tit
Chaffinch
Great Tit
House Sparrow
Greenfinch
Coal Tit and many more!
How to Use Peckish Robin Insect Seed Mix
To use in bird feeders, simply pour the seed into a seed feeder
To feed on bird tables, scatter the seed across the table
Also suitable for feeding in tray and ground feeders
Where to Site Peckish Robin Insect Seed Mix
Site your feeder 2 metres from cover to make the feeder visible, whilst providing a safe place to retreat
Put out food at the start of the day to ensure that birds can replace the energy they have lost overnight
Feeding Tips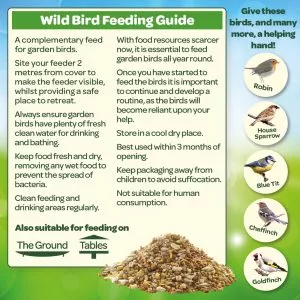 Hygiene
Always ensure garden birds have plenty of fresh clean water for drinking and bathing
Clean feeding and drinking areas regularly with a mild disinfectant
Keep food fresh and dry, removing any wet food to prevent the spread of bacteria and diseases
Storage
Not suitable for human consumption
Contains nuts
Keep packaging away from children to avoid suffocation
Store in a cool dry place
Best used within 3 months of opening
Frequently Asked Questions
Q. Why are the birds not visiting my feeders?
A. It is not uncommon for birds to take some time to visit new feeders or food that is offered. It can be down to the species in your area and other food resources that are available. Make sure you are providing some cover for the birds and make available some fresh drinking water.
Q. Why are the birds discarding some seeds?
A. Wild birds are selective over what they eat and when. It is not that they do not like it but they might have another source or they don't need it right now. Never remove or stop feeding these seeds as shortages can happen at any time.
Q. Would the discarded seed grow below my feeder?
A. Peckish Robin Insect Mix is not a "no grow" mix. Given the right conditions the seed could germinate.
For any questions or advice, please contact our technical advice line on: 01480 443789 (Mon – Fri 10am – 4pm) or email customerservice@westlandhorticulture.com