Unwins Tomato (Cherry) Sweet Million Seeds are a deliciously sweet and irresistible variety. They can be grown indoors, whether that be on a windowsill or greenhouse and produce up to 50 tomatoes per truss. The small, round and also rich colourful fruits are perfect for growing in containers. Simply grow, harvest and add to any dish you like for sweet and yummy goodness.
Indoor cordon type
50 fruits per truss
Sweet and irresistible
Rich colourful fruits
Long cropping period
Sow January to May
Harvest July to September
Product Details
How to sow
Tips & Advice
Sowing Time

Plant Spacing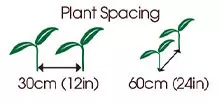 Sowing Indoors
Level fill a module tray with seed compost firming with the base of another tray. Water well with a fine rose. Sow seeds individually and cover with 1/2cm (1/4in) layer of compost. Place in a propagator at 18-20°C (65-70°F) or cover tray with cling film and leave in a warm room. Keep moist.
Growing On
When shoots appear remove cling film. Keep seedlings in a light position, but shade from direct sunlight. When plants have four leaves transplant to 9cm (31/2 in) pots of potting compost. Grow coolly and steadily. Minimum temperature of 10°C (50°F).
Planting Out
When the first flowering truss forms, transfer to a greenhouse border, grow bags or large pots 30cm (12in) apart in rows 60cm (24in) apart, minimum 10°C (50°F).
Cultivation Note
Cordon/Indeterminate/vine varieties require training up canes, strings or wires. Remove side shoots as they appear.
Tomatoes are thirsty and hungry plants. Feed and water regularly and remember to ventilate your greenhouse on warm days. Pinch out the growing tip once it reaches the top of the support allowing maximum eight fruiting trusses.
For any questions or advice, please contact our technical advice line on 01480 443789 (Mon-Fri 10am-4pm) or email customerservice@westlandhorticulture.com