How best to recycle your Christmas Tree
With Christmas over, you might be wondering how to recycle your Christmas Tree. Here are a bunch of ways to recycle your tree.
Speak to your local Garden Centre. Some garden centres offer Christmas tree recycling facilities. Also ask the retailer for details when purchasing your tree.
Visit a Household Waste and Recycling Centre. You can recycle your tree by transporting it to your local Household Waste Recycling Centre.
Your Local Council. Most councils collect Christmas trees at the beginning of January. Contact or check your local council's website to see if they offer a pavement collection service.
Recycled Christmas trees can be used as mulch in public parks and gardens, and to help prevent beachfront erosion.
Use your Garden Waste Bin. If you have space in your garden waste bin, you can always choose to cut up your tree and leave with your weekly bin collection. Check your local council website for more information.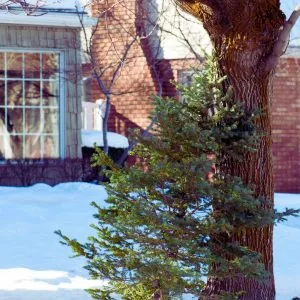 Create mulch or compost. If you have access to a chipper or shredder, turn your used Christmas tree into garden mulch. Not only can this then be sprinkled around your plants as a soil improver. It can also be used to help suppress weeds. Furthermore, you could also use branches as canes / supports for your plants.
Simply remove the pine needles and leave the stakes to dry out. These branches are fantastic for using as supports in your greenhouse and veg patch later on in the year.
If your tree is pot grown. Plant your pot grown tree in your garden. Once the 12 days of Christmas have been and gone, you can transplant your pot grown Christmas tree into your garden to display for the rest of the year.
Keep in the pot:. Alternatively, you can re-pot it into a larger-sized container and display outdoors. Be careful to give the root ball sufficient space to expand and grow. If the tree remains healthy, you could even re-use it by bring.