Achieve 4 times more blooms with Westland Boost All Purpose Liquid Plant Feed. Our new plant feed helps you achieve stunning floral displays and an abundance of healthy fruit and veg. Boost has unique Plantsense™ technology to feed all ornamental and ericaceous plants, plus all fruit and vegetables. It is also the first feed suitable for both peat and peat free composts. With the perfect blend of nutrients as well as unique water management technology, this makes application faster and also more effective.
Boost All Purpose Liquid Plant Feed will produce four times more blooms compared to watering alone. In addition, more fruit and veg is guaranteed. Simply add to the watering can using the 'easy squeeze' dosing system.
Optimised ratio of high quality nutrients for 4 x more flowers
Superior application for easy and also faster watering
Maximised water absorption
Features an accurate dosing system
Suitable for: all peat and peat free composts, all ornamental and ericaceous plants and all fruit and vegetables

*Bedding plants versus unfed
Sizes available
Why use
How to Use
Tips & Advice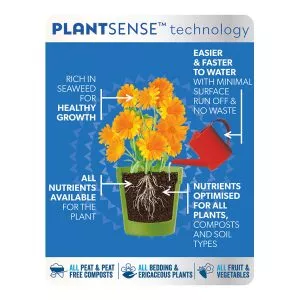 How to use in 4 easy steps

Shake well before use
Fill the inner part of the cap until the line (10ml)
Pour into your watering can and mix with 4.5L/1 gal of water
For ease, feed every time you water when plants are actively growing (Mar – Sept)
Alternatively, mix 20ml (2 x 10ml doses) in 4.5l of water and feed weekly. For small or sensitive plants use 10ml in 4.5l of water and feed weekly. To avoid plant damage do not apply directly to foliage, or in freezing conditions. Do not overdose.
For any questions or advice, please contact our technical advice line on 01480 443789 (Mon-Fri 10am-4pm) or email customerservice@westlandhorticulture.com
Frequently Asked Questions
Q. Why does it produce a light foam when mixed with water?
A. It contains a wetting agent which helps the feed to get into the soil evenly and this is what causes light foaming when mixed and dissipates during application.
Q. What is optimised nutrient release?
A. Nutrients are released gradually to ensure plant growth is continual and this ensure strong healthy growth and a longer flowering season.
Q. What should I do if I put on too much of the product?
A. Heavily water the area to wash through excess product.
Q. Can I use Boost on any other plants?
A. Boost liquid plant feed is suitable for feeding all flowering and fruiting plants in your garden, including ericaceous. For beds and borders apply weekly as per pack advice.