Westland Houseplant Potting Mix is a peat free specialist mix of wood fibre and perlite for airflow as well as drainage. Ideal to use for potting or re-potting most indoor plants. This free draining mix promotes healthier growth and greener leaves for an outstanding indoor garden.
Added Seramis granules for optimum water and nutrient availability
Added perlite for airflow, drainage and healthier root development
Essential nutrients for healthy, stronger growth and also greener leaves
Perfect for all houseplants including Peace Lillies, Snake Plants, Swiss Cheese Plants, Calatheas, Prayer Plants and Areca Palms
Use with our Houseplant Feed for even better results
View our advice articles and our full indoor product range here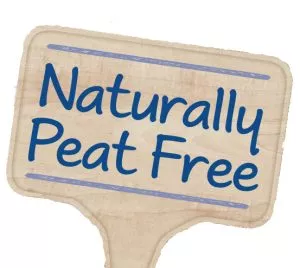 Sizes available
Product Details
How to Use
Tips & Advice
Why Use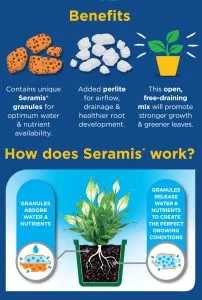 When to Use
How to Use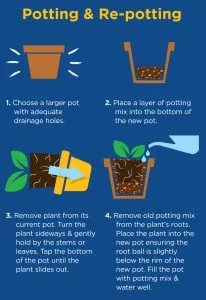 Don't forget to pot top! Adding Hydroleca as a pot topper will provide a decorative appearance, help to minimise over watering and discourage attraction of pests.
Feeding
Westland Houseplant Potting Mix contains sufficient nutrients to feed plants for approx. 6 weeks
After this period, feeding should commence with Westland Houseplant Feed.
Feed every second watering in the active growing season (spring/summer) and every fourth watering in the winter
Watering
Under or over watering houseplants are one of the main causes of the plants failing
Do not allow the plant to sit in water or sodden compost as this will stunt root growth and prevent air movement around the roots
It can also make the plant more susceptible to pests and diseases
Overwatering can cause leaf yellowing and loss, and a shortened flowering period.
Equally do not allow the compost to dry out completely as this can also cause damage to the plant
Regularly checking the compost to see if it is still moist in the summer months (less frequently in the cooler months) is the best way to ensure proper watering
Knowing when to water your houseplants can be difficult. Westland Watering Indicator sticks are a useful way of knowing when the compost in your plant pot has dried out. The easy to use sticks change colour from blue to red when the plant needs re-watering
Tips for Better Results
Place plants in bright positions but avoid direct sunlight if possible
Avoid large fluctuations in room temperatures as this may cause leaf drop
Treat houseplants to a leaf shine to remove dust
General Advice
Not suitable for Ericaceous (lime hating) plants
Store in a dry, frost free place away from weed killers and other garden chemicals
Reseal bag after use
Use in a well ventilated place and avoid breathing in dust
Always wear gloves when gardening and wash hands after use
Frequently Asked Questions
Q. Can I use this for outdoor plants?
A. Yes this can be used for plants outdoors, but we would recommend using a multi-purpose compost as it has been designed for predominantly outdoor use.
Q. Will this be attractive for my pets?
A. This will not be attractive to most pets as it does not contain any organic fertiliser elements
For any questions or advice, please contact our technical advice line on 01480 443789 (Mon-Fri 10am-4pm) or email customerservice@westlandhorticulture.com