After a quick and easy way to dress up your front porch, patio or even a balcony area? Perhaps you just want to add a pop of colour to brighten up shady areas, if so then container gardening is for you. We've put together our top 5 container flowers.
Many plants thrive in containers, some flowers tend to last longer compared to those planted in beds and borders. This could be down to a number of things such as the plants being more protected or that a container can provide better drainage for the soil.
For beautiful containers you need to plant a variety of flowers. For adding height to your array try a Canna, for fillers a Begonia is always a reliable choice, and finally you need a spiller plant to help with the voluptuous look, Lobelia or a member of the Callibrachoa family will help achieve this.
However if it's a picture perfect container you are after, keep reading! Our Top 5 favourite container flowers will not only give you plenty of ideas for plant choices but hopefully they will provide some inspiration leaving you reaching for the flower pots!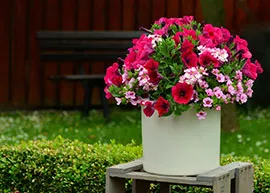 With so many options to choose from, narrowing it down to 5 was not an easy task. But after a few debates in the office, we have finally agreed that the following are our top flowers.
Our Top 5 Container Flowers
1. The Dwarf Dahlia, flowering through until the first frost you certainly get value for money from the dahlia. With so many varieties and vibrant colours everyone should be able to find a favourite for their garden. They are easy to grow and tolerant to a variety of soil types. They have gained a new following in recent years.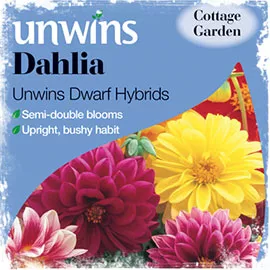 2. Cosmos (Bipinnatus) Antiquity, bearing a sweet, prairie / daisy like resemblance due to its upright stalks the antiquity come in a stunning two-tone shade of crimson through to burgundy, turning to a deep pink with age. As long as you keep dead-heading the antiquity there is no reason why it won't flower right through to October. For further information and advice on Cosmos Antiquity go to visit Unwins Seeds where you will find useful advice on successful germination.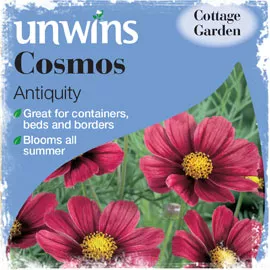 3. Lavender, one of the most cultivated of plants, known for its delicious smell and oil format, not only will it look beautiful in your container but you can also use it as a cooking aid or dry out the flower spikes and use them in a floral arrangement. This multipurpose, useful plant will attract bees to your garden. It is also easy to grow but does prefer well drained soil.  Positioned in a warm, sheltered sunny spot will ensure these flowers thrive. A top tip for growing lavender is to water the plant little and often.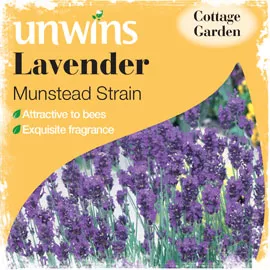 4. Sweet Pea, the dwarf bush type growing variety is best for containers, they are a fragrant flower, easy to grow and can be bought in a multitude of colours so there is something to tone in with every garden theme. If you are like us and enjoy the fresh floral scent around your garden then Sweet Pea is perfect, the more you cut the more they grow. Unwins offer delightful Sweet Pea Cupid Mix Seeds which can be delivered right to your door for convenience.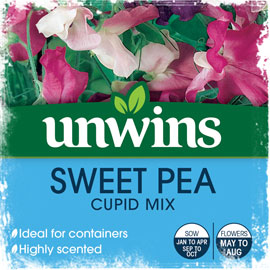 5. Number 5 on our list but by no means last, the Verbena. For best results seed indoors, then once leaves appear it's time to expose the new plant to the elements of outdoors. After a week it's time to transfer the plant to a container. You may be asking yourself is it worth the hassle? Yes is the answer, these are exceptionally beautiful flowers requiring little care once settled. With so many varieties to choose from we have decided upon Quartz Waterfall mix, this particular variety flowers earlier than it's cousins from the Verbena family and tends to do so for longer. The blue and white blooms will perform in all weather and will look beautiful together in a container with lavender.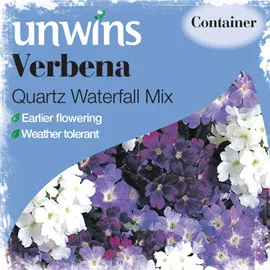 What do to now
Now that the plants have been selected it's time to start thinking about getting the most out of them. Our recommendations to keep your plants flowering for longer are:
Give the plant a head start when planting, using Gro-sure easy containers compost
Keep deadheading to encourage more flowers
Ensure your containers are well watered – particularly during the hotter months
Feed with liquid feed once a week for an added boost to your display
Move the container if needed, if torrential rain is forecast move your plants to a covered area so the heavy rain fall can't damage your Dahlias
How to Create a Container Garden
For more tips on container gardening check out our videos for further advice.