A blog post written by one of our customers of how she ensures successful seed growth for her spring planting.
I can't wait to get started on some new plants this year. My greenhouse is clean, tidy and raring to go. I have pots, trays and even a selection of seeds I want to sow early (pelargoniums, begonias and yes, even tomatoes). I just need to get my compost now.
Here is my plan for successful seeds
I have a 5-point plan for choosing a good compost for sowing seeds and getting cuttings to root:
When I fill a pot or tray with the compost, I must be able to make the surface flat. Basically without any lumps and crevices. This makes it easy to sow the seed, as well as dib holes for the cuttings.
The structure of the compost must be open enough to allow the movement of water and air, yet fine enough to allow young roots to push through it freely. This will also make it much easier to separate the seedling roots when it comes to transplanting them later.
The compost must be free-draining, yet hold sufficient moisture for the seeds to germinate, and the young roots of seedlings and cuttings to develop.
It must be easily re-wetted if it dries out; some composts will let water drain through without absorbing any of it.
It must be sterile (that is, free from fungal spores, diseases and weed seeds); this is best achieved by using fresh compost straight from the bag. After using, fold over the opened bag of compost to keep it as sterile as possible.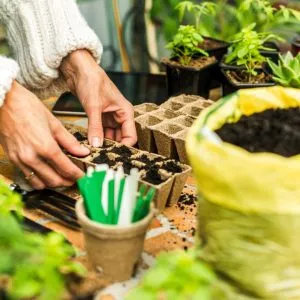 My favourite compost
So, taking all of these points into consideration, which compost do I use? There are loads out there, but I get as good a result as any using Gro-Sure Seed & Cutting Compost. It has been developed especially for seed germination and seedling and cutting establishment. It is a fine grade compost containing Vermiculite (a naturally occurring substance that aids drainage and aeration), as well as seaweed and plant extracts that stimulate young seeds and cuttings to produce strong healthy seedlings and growth. It's available from leading garden centres, in 10litre, 20litre and 30litre bag sizes.
By the way, don't use any seed sowing or cutting compost left over from last year. Fungal spores and creatures (from tiny insects and ants to larger toads and rodents), may have contaminated it, rendering it less than suitable for the delicacy of seed sowing and the taking of cuttings. Instead, any unused seed compost from last year can be mixed with potting compost to bulk it out, or spread on to garden soil to add humus.
Final tip
Did you know that you can improve your chances of germination success in your Gro-Sure Seed & Cutting Compost, by using seeds from the Unwins Gro-Sure range? Even better results are achieved if you then transfer the seedlings or rooted cuttings into Gro-Sure All Purpose Compost, and then feed your developing plants with Gro-Sure All-Purpose Plant Food. As I have found myself saying more than once, the Gro-Sure brand is a one-stop-shop for gardening excellence!.
Read more blog entries…