Mulching
About a thousand years ago, when I was being trained as a gardener, I first heard the word 'mulching' I'd never even thought about such a thing, and didn't know what it was or why it was ever used. But I soon learned that mulching is such a simple, yet essential thing, in any garden. Without mulching, a garden remains just a place for some plants. However, with mulching, a garden becomes a paradise with lush growth, beautiful flowers, and bountiful fruits and veg.
What is mulching?
Essentially it is any permanent material that is laid over the ground, between plants. It can be organic (such as garden compost, well-rotted manure, shredded bark or even grass clippings) or inorganic (gravel, slate ships, coloured glass beads, and so on).
A mulch serves several important purposes. First, it reduces moisture loss from the soil. Plants, especially in summer, need all the moisture they can, and the sun's heat directly hitting the soil can quickly cause moisture evaporation. Any mulch will reduce this.
A mulch also prevents weed growth. A cubic inch of any normal garden soil contains dozens of weed seeds, all just waiting for the perfect conditions to germinate. Covering the soil with a layer of mulch stops these perfect conditions from arising. And any cheeky weeds that do force their way through are more easily pulled by hand.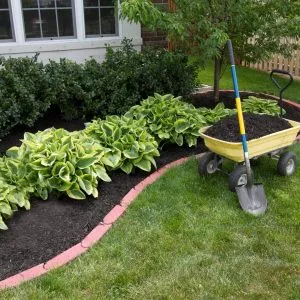 What's the best mulch to use?
There is one type of mulch that I have been using more and more of, though.
Westland Plant Protection Bark
does all of the things above – plus one important added extra. It deters slugs and snails from attacking my favourite plants. They hate trying to glide themselves over the rough, fibrous bark, so they tend to just 'clear off'!
The natural-coloured bark chips, which are between 8-20mm in size and come in a 90litre bag from the garden centre, can be laid straight on to the soil. Ideally the soil should be properly weeded first, and if weeds are a problem for you, then putting down a weed-suppressing membrane before laying the mulch is a good idea.
The bark should be spread to a depth of about 5cm, around and between plants, making sure that it reaches under the plant canopy and covers the root area.
Westland Plant Protection Bark is a by-product from approved, sustainable conifer plantations grown for the timber industry.
Final tip
This natural product can also be used to mulch plants growing in patio pots and containers. As long as there is space at the top of the pot, spread a 3-5cm layer of bark over the surface of the compost. It will provide useful thermal insulation over the coming months, as well as preventing moisture loss and weed growth. Oh, and did I mention that it looks fabulous, too?