For years many of us have created flower displays for our garden, beds, borders, containers and hanging baskets. This was as far as we went with our planting. However, that thought process has certainly shifted over the years. Allot of us are now up-cycling, which has had a major impact on our gardening trends. There are many alternative flowering container ideas to a plant pot.
What once may have been sent to the recycling centre is now taking pride of place on our lawns.
It seems almost anything can be used to plant flowers and shrubs in. From old bathroom utilities such as, baths, sinks and yes toilets to tricycles, bird cages and even old vehicles.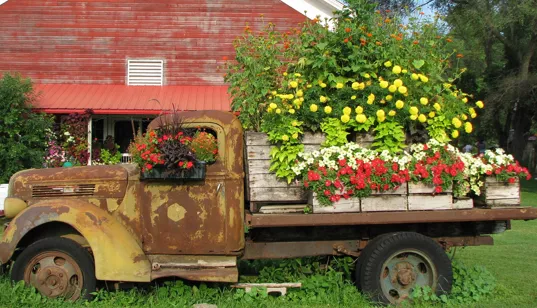 Do you want to try something different? Haven't really been sure what to use? It is all really dependent on the available space you have. These creations can be bold and brass or a modest small arrangement in an old time milking jug!
We have alternative options to containers for you to try out at home whatever your garden size. Time to roll your sleeves up and get your creative caps on.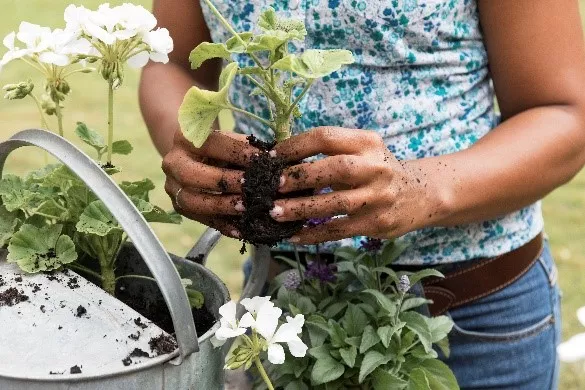 Pallets
These versatile frames have been given a new lease of life in recent years. Not only can they be converted to garden furniture but can also be transformed in to living walls. And of course kept on the ground as an excellent plant container. All you need is some landscape fabric or weed guard to staple around the pallet and you are nearly good to go. Dependent on the width between the pallet slots you may need to remove a plank or two giving the plant enough room preventing damage as it grows.
The Watering Can
Over time the watering can becomes tired and worn, often little holes appear, leaving you watering your legs as well as the plants! Rather than casting them out of your garden you can create something special with very little effort. Galvanised watering cans make an attractive plant container, however they can be painted for an added pop of colour. The plastic variety work just as well for transforming a plant in to a piece of art! One of the added bonuses for using the watering can instead of a vase is there is no additional work to it. It is as simple as using a standard pot but much more attractive.

A Bath
Once a single purpose amenity, large enough to compete with most flower beds, you can plant a range of shrubs, flowers and perennials making it more dramatic and noticeable. The older baths with legs do perhaps look best, however baths without legs are more than capable of holding their own too when filled with an array of flowering plants. An additional idea could be to paint the bath adding brightness to make it more appealing.
Add a cut-to-size piece of timber first if your plants need elevating to prevent excessive amount of compost use.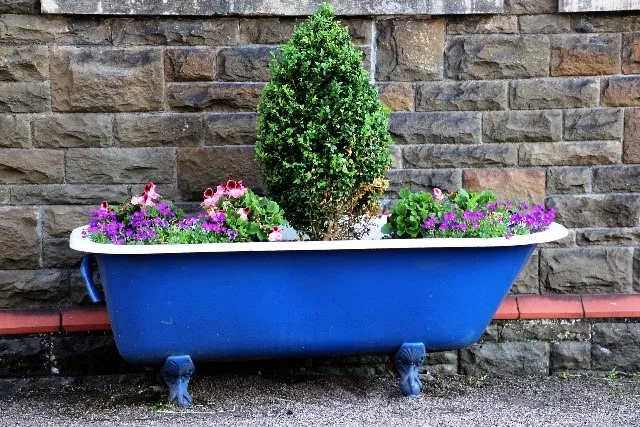 The Wellington boot
In any keen gardeners shed you are sure to find at least one pair of old wellies, and this is before you consider the multitude of children's boots that can gather over the years. Once these had been flippantly tossed aside when replaced with a shiny new pair, but not anymore. Now the waterproof wellie can be revived and re-purposed as a flower container. Start by giving the wellies a good clean removing any debris or muck. Then remove the liner or insole from the boot. Holes are required along the bottom of the wellie for drainage, a drill can be used for this. Add in some heavy stones or pebbles to help the wellington stay upright in winds, this will also help the water to drain out. Keep upright on the ground or hang on a fence, either way they will make a beautiful addition to your garden.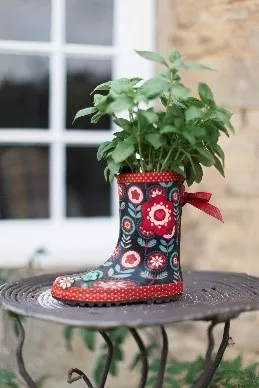 Basically nearly anything can be turned into a flower pot, as long as the plant has enough room and there is adequate drainage you should succeed.
Further alternative flowering container ideas are:
Up-cycled shoe organiser
Chest of drawers
Upside down umbrella
Tricycle
Basket on a bike
Bird cage
An old wagon style wheel or tractor tyres
Tea pots / cups & saucers
The possibilities are endless, all you need is a little imagination and some elbow grease, and you can create a beautiful botanical haven in the strangest of objects.