Jayne Scott was revealed last night as the winner of the Westland & GCA Rising Star of 2018.
Jayne Scott of Daleside Klondyke Garden Centre was voted for by delegates at the Garden Centre Association (GCA) Conference in Stratford-Upon-Avon.
The Westland Rising Stars Programme, run by Westland Horticulture and supported by the GCA has been running since 2009 and aims to grow and nurture the best talent in the industry.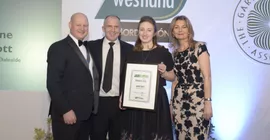 In its current format over the last five years, Ian Boardman, IBBIS Director, has facilitated a series of Merchandising Masterclasses, helping over 120 Stars focus on key aspects of merchandising. The Stars have each undertaken an impressive project at their centres with inspiring results!
Ian says: "The calibre of candidate seems to go up each year, and the enthusiasm and hard work displayed by each is humbling. It's very rewarding to see them grow in confidence and ability. This year's winner Jayne was chosen by the GCA Conference delegates. She has demonstrated a great desire for personal development. From the first Masterclass, Jayne listened, planned, liaised and got stuck in to improve areas of her centre. It really shows the benefit of working with colleagues to achieve great things. Well done to Jayne – and to all the 2018 Stars – they all did exceptionally well."
Keith Nicholson, Marketing Director for Westland said: "Westland Rising Stars programme recognises and promotes the best talent in our garden centre retail industry. Westland has continued to invest heavily in training for garden staff as bringing in fresh ideas and creativity is critical for our industry. This is why will continue to support the Rising Stars Programme"
Anyone interested in applying for the 2019 programme should contact the GCA on 01244 952 170 or visit www.gca.org.uk.