We are for all gardeners tomorrow, delivering a green growth, sustainable strategy plan. This includes sustainable growing media, sustainable chemistry, sustainable packaging, a sustainable business operation as well as sustainable education.
Sustainable Growing Media Strategy
We are delivering positive change, with long term investment as well as development. Our peat reduction progress continues and we know the quality of peat replacement is key. We are now 80% peat free across our range and aim to be 90% peat free by 2025. In 2019 alone, we replaced over 1 million cubic metres of peat. Equivalent to approximately 17 million 60 litre bags of growing media.
Our first steps towards sustainability were made in 2006 when we developed West+. This is a unique, patented peat replacement wood fibre technology. In recent years, Westland introduced a new significant and unique material called BIO3. This is a natural and also sustainable material enabling us to deliver significant progress in our peat reduction levels without compromising performance. Consequently, BIO3 has enabled us to reduce the use of peat across our growing media range – therefore 98% of our range is now peat-reduced or peat-free.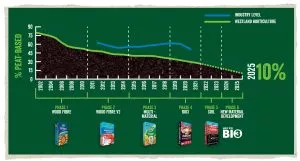 Zero Green Waste
We have invested long term and into the future producing products with zero green waste. To ensure we give gardeners' great results every time we don't use green waste because of it's inconsistent performance and also the contamination risk.

Phasing Out Coir
Coir is not environmentally sustainable and thus will be phased out from the Westland portfolio.

Total Plant Health Strategy
We want to promote a healthier environment for plants and crops to thrive. Aimed through our range of plant foods, pest control and also specialist compost. Our new specialist planting & potting mixes are specially developed to support plant health. Strengthening plants from the inside out with added zinc complex. Improving transport of water and nutrients and also promoting root and shoot growth as well as encouraging plant energy production.
We have also developed a new range of specialist feeds that we tailor to meet the specific growing needs of plants. They help to build plant immunity and resilience, therefore guaranteeing longer lasting, healthier plants.

Proactive Chemical Strategy
Westland are leading the non-glyphosate strategy. 60% of our garden controls are now pesticide free. Therefore, we are on target of achieving 75% by 2023, investing in green technology.
The Growing Success range promotes a healthier environment for plants and crops to thrive as well as safer and organic alternatives eradicating slug problems. Our pesticide-free insecticide range promises to restore balance without harming beneficials. The use of green chemicals will be the way forward. Growing Success also have a range of natural barriers as well as chemical free methods to stop slugs and snails.
Packaging Reduction Strategy
We aim to eliminate single use and also non-essential plastics and want to remove over 670 tonnes of plastic and zero landfill across the group.
Delivering Through Product
Plastic free
100% recycled plastics
30% plastic reduction
Packaging development
Corporate Sustainability
100% renewable energy in all sites
Zero to landfill in all sites
FSC® certification for all wood based products
Help us with our sustainable strategy by clicking here for some feel good gardening ideas you can do with your old garden products.