PRODUCT DISCONTINUED: PAGE FOR INFORMATIONAL PURPOSES ONLY.
Resolva Zero Weedkiller Ready To Use controls a range of annual as well as perennial broad-leaved weeds and grasses. Its non-selective formula will only kill weeds and their entire root, but not grasses. By killing on contact, it therefore acts by desiccation of target weed.
No Glyphosate formulation
Express action on weeds and grasses
Unique non-drip trigger
Contains Pelargonic acid
Kills by contact only
Fast acting
Non-hazardous to bees
Sizes available
Product Details
How to Use
Tips & Advice
Useful Information
Why Use
Starts killing weeds in 1 hour
Express action on weeds and grasses
No Glyphosate formulation
What to Expect
Directly exposed green parts of the plant will quickly brown and die
Perennial or large persistent weeds may require re-treatment
Woody parts of the plant will not be effected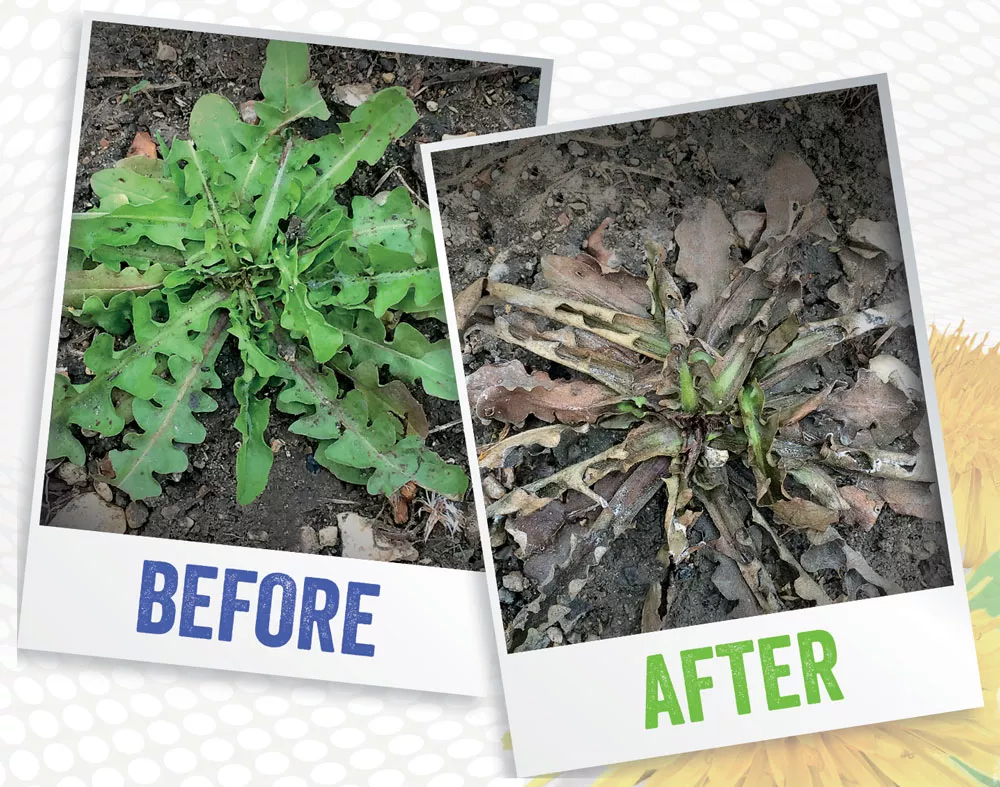 Resolva Zero Weedkiller contains Pelargonic Acid. Use plant protection products safely. Always read the label and product information before use.
When to Use
Treatment can be made between April and September. Use on a calm, dry day Do not apply when there is risk of frost
Where to Use
For use on weeds outdoors around garden plants, vegetables, fruit trees, berries (except strawberries) and permeable areas not intended to bear vegetation overlaying soil e.g. Block Paving, Decking & Gravel
Do not use on impermeable surfaces such as concrete, tarmac or paved areas where the product may run off into water courses or ponds
Do not use on lawns
How to Use
Always read the label fully before use
Shake well before use
Rotate the spray adjuster to 'spray' or 'stream'
Spray the weed leaves lightly until fully wetted but avoid run off
Rotate spray adjuster to 'X' position after use and before storage
Do not walk into treated areas until the spray has dried on the leaves to avoid transfer to lawns and other vegetation
Maximum of 2 applications on bare soil around existing vegetation with an interval of 21-60 days between applications
General Advice
To avoid risks to human health and the environment, comply with the instructions for use
Do not use outdoors in windy conditions
Keep in a cool, dry place and away from food, drink or animal feeding stuffs
Do not eat, drink or smoke when using this product
Do not get in eyes, on skin or on clothing
Environmental Protection
To protect bees and pollinating insects do not apply to plants when in flower
Do not use where bees are actively foraging
Do not apply when flowering weeds are present
The product is classified non-hazardous to bees up to the maximum application rate defined
The product is classified harmful for populations of relevant beneficial insects, predatory mites & spiders
Staining
The product does not usually leave any stains on paving stones or decking when used properly
Any discolouration after application will soon disappear after rainfall
Check material compatibility before application
Do not use on synthetic resin panels or marble.
Frequently Asked Questions
Q. How long before I can see results?
A. You should normally see some effect on the plant within hours
Q. What is pelargonic acid made from?
A. It is an fatty acid which occurs naturally as esters in the oil of pelargonium (commonly known as geraniums)
Q. Can I use this product on my lawn?
A. No, this product will also damage lawns
For any questions or advice, please contact our technical advice line on 01480 443789 (Mon-Fri 10am-4pm) or email customerservice@westlandhorticulture.com
Safety Information
WARNING: Causes Serious Eye Irritation
Contains Pelargonic Acid 30.99g/L (3.11% w/w) – May cause allergic reaction
If Inhaled:
Move to fresh air and seek medical advice if necessary
Skin contact:
Wash off immediately with soap and plenty of water.
If in Eyes:
Rinse cautiously with water for several minutes
Remove contact lenses if present and easy to do. Continue rinsing. If eye irritation persists, get medical attention
If Swallowed:
Rinse mouth with water and then drink plenty of water
Do NOT induce vomiting
If you feel unwell, seek medical advice (where possible, show this label).