When the you are starting to miss the sweet scent of summer, all is not lost. You can have a mini garden on your inside windowsill by fooling Mother Nature. We can have vibrant, fragrant colours in our homes within only a matter of 8 to 12 weeks by forcing bulbs into flowering indoors.
Therefore, bulbs planted in September can be forced to produce flowers in time for the Christmas festivities. Good bulbs for forcing include prepared hyacinths, large flowered crocus and some tulips and daffodils.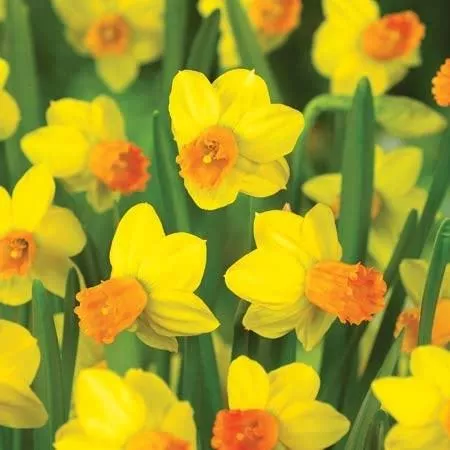 The most popular Narcissus for growing indoors is the highly fragrant Paperwhite. Choose some healthy prepared hyacinth bulbs for forcing, as ordinary hyacinth bulbs will not produce the same results. It is important to always wear gloves when handling hyacinth bulbs as they can cause skin irritation.
When a planted bulb is removed from a light source it enables root development to occur. Once it is re-introduced to light, the leaves and flower will then start travelling upwards towards the light and away from the bulb. When we are growing our bulbs this way we are essentially shortening this darkness period – which the bulb treats as winter and therefore tricking the bulb to believe spring has arrived and it's now time to bloom.
Follow our easy four step guide and you will be enjoying a home filled with fresh flowers;
Step 1
Gather your materials – Decide upon which bulb to plant, Unwins have a selection of prepared bulbs perfect for forcing to flower. Once your choice has been made then you will know if you need potting grit and compost, or if pebbles will suffice. You will also need to ensure the container or pot which the bulb will grow in will look good when the plant is flowering.
Step 2
Commence the planting – If you have gone for Paperwhite Narcissi which is often the easiest bulb to force, add some pebbles to a shallow dish or pot setting the bulb on top. Add in some water and place in a sunny window. The water will need topped up once a week and will normally bloom between nine and eleven weeks. The Paperwhite can also be planted in soil but if you want to try something different then pebbles are an attractive option.
To pot the Hyacinths, making sure you are wearing your gloves, then begin by adding a layer of Westland Potting Grit to the bottom of your pot to help with drainage. On top of the potting grit add a layer of Westland Bulb Planting & Potting Mix (which contains West+) as this will promote strong root growth for the bulbs. Ensure you don't pack it in too tightly as the roots need loose compost to push through the soil easily. Water in lightly but take care not to overdo it.
Step 3
On the move – You should now place your potted bulbs in a cool, darkened area which is sheltered. Choose an area such as behind a garage or shed; however, if there is a risk of frost then move the pot inside the garage / shed and cover with a piece of card or black polythene to protect the bulbs. This is the preparation phase and they will only be stored for a short period of time in this area.
Step 4
Enlightenment – Once the leaves or flower buds start showing signs of emerging, it's time to bring your potted plants back inside.  Place in a cool, light room so the flowers can develop slowly. Make sure you place the pot on the saucer so that the excess water can be collected. If you have potted bulbs with tall flowers, (such as Amaryllis), the stems may need supporting to prevent them from flopping.  You should also be watering your flowering bulbs at this stage.  Use Gro-Sure All-Purpose Plant Food to aid with flower, leaf and root growth.
If you look after your new plants they should last for weeks which will help keep colour, scent and beauty in your home throughout the darker days of winter.