NOW PEAT FREE
Westland Bulb Planting & Potting Mix is a specially blended peat free compost. It has added zinc complex that naturally supports plant health for an abundance of stronger, healthier bulbs and vibrant flowers. It also contains grit to ensure there is free drainage with the perfect balance of nutrients. This Bulb Planting & Potting mix is ideal for either indoor or outdoor bulb planting.
Zinc complex is important in the production of plant growth hormone auxin and improves the transport of water as well as nutrients around the plant. Promoting root and shoot growth for stronger, healthier plants. It also encourages photosynthesis for plant energy production.
Added grit for free drainage
Correct balance of essential nutrients and trace elements
Perfect for indoor and outdoor bulbs
Added Zinc complex helps build plant resilience
To find out more about our Specialist range of feeds and compost click here
If plants appear pale or yellow ensure you feed with Boost All Purpose Plant Food. This feed is specially formulated for use with peat reduced, peat free and ericaceous composts.
Sizes available
Why Use
How to Use
Feel Good Gardening
Tips & Advice
Westland Bulb Planting & Potting Mix Peat Free offers the following unique benefits:
Provides the perfect environment for root growth, allowing the bulbs to use the whole volume of the pot or container for rooting.
Makes it easier to re-wet, retains moisture to keep the plant hydrated and drains easily to ensure that roots are not water-logged and the bulbs don't rot.
Holds a base nutrient supply ensuring even feeding which provides a longer period before supplementary feeding is required (typically 5-6 weeks).

How to Use
First, put on a pair of gloves and rework the compost between your hands, so that it regains its intended texture. Then you're all set.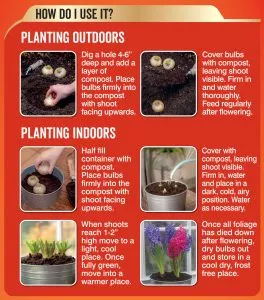 When to Use
Can be used for planting bulbs inside or outdoors.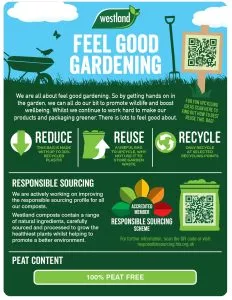 General Advice
Not suitable for ericaceous (lime hating) plants.
Store in a dry frost free place away from weed killers and other garden chemicals.
Reseal bag after use.
Wear gloves when handling.
Frequently Asked Questions
Q. Will my pets or wildlife be attracted to this product?
A. Bulb Planting Compost does not contain any organic feed elements so shouldn't be attractive to animals.
Q. Can I use this compost for raised beds?
A. We would not recommend using this for raised beds.
Q. Can I use this for houseplants?
A. Yes, Bulb Planting Compost can be used for houseplants however you would get better results using a compost specifically designed houseplants such as our Houseplant Potting Mix.
For any questions or advice, please contact our technical advice line on: 01480 443789 (Mon – Fri 10am – 4pm) or email customerservice@westlandhorticulture.com