At Blacksmith, we believe in the finest quality hanging baskets and accessories to enable you to create the most beautiful, showstopping floral displays. This is why Blacksmith is the brand to choose for your hanging garden products.
Our baskets, mangers and troughs are beautifully crafted from classic wrought iron to ensure they last for years to come. This means you can have beautiful blooms, season after season, year after year. They also feature a tough, weatherproof protective coating to withstand the elements. In addition, they each offer maximum strength and durability with their 10mm thick steel wire frame.
Hanging Basket Blooms
Blacksmith Hanging Baskets are available in three sizes, 12″, 14″ and 16″ so you can choose how big you want your display. Each also includes a black coated hoop chain for easy hanging around the home.
Brightening up Walls
The Blacksmith range also consists of Wall Mangers and Troughs for securing to walls outside the home with the wall mounting eyelets included. These are a great way of showcasing your stunning displays and for adding a splash of colour to bare walls.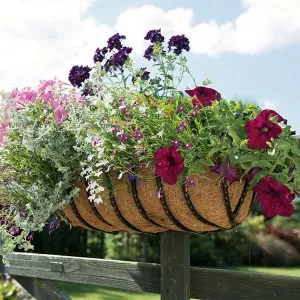 The Most Premium Coco Liners and Accessories
All of our baskets, mangers and troughs include a thick, premium coco liner giving your plants the perfect growing environment to grow. Our coco liners have excellent drainage and aeration, as well as holding enough water for plant roots to thrive. You can also buy Blacksmith Coco Liners separately so you can add to any basket you choose.
We also offer hanging hooks and brackets, giving you the most secure way to display your hanging baskets.
So if you want the finest quality products, choose Blacksmith for your blooms.