Water is the lifeblood of container plants, and getting watering right holds the key to spectacular, long lasting displays. Watering your hanging baskets and pots could not be easier with Flopro watering products. We have a wide range of spray guns and lances to suit your watering needs.
Top Tips for Watering
Whether you are watering baskets, pots or containers in your garden, ensuring you water them regularly will give you stronger and healthier plants overall. As the majority of plants enjoy living in damp soil conditions. Keeping an eye on moisture levels is key to ensure you are not over or under watering your plants. You can use a Digital Moisture Meter to accurately test the soil.
The optimum time to water is first thing in the morning, when temperatures are lower and plants begin to draw moisture from the compost. You can water in the evening, too, but you'll have to be on your guard against slugs and snails, which adore damp overnight conditions. Even in the weather gets wetter, you'll still need to water container plants regularly, as dense canopies of bedding plants and shrubs make it difficult for summer downpours to penetrate into the compost.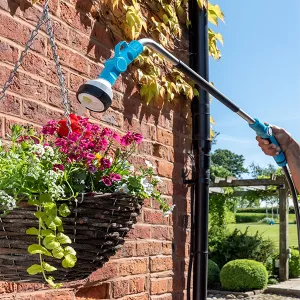 Keeping compost moist is the secret to happy plants, but pots, window boxes and hanging baskets dry out faster than garden borders on scorching summer days. Be ready to swing into action and quench plants' thirst when the mercury rises but avoid watering in the heat of the day as much of the moisture will evaporate before the plant can use it. Try not to splash flowers and leaves when watering, as a drenching can cut floral displays short and spread diseases.
During hot spells, or if you're away for a weekend, try standing containers in deep plastic saucers. Filled with water, they'll act as reservoirs.
Hanging Baskets
To water your baskets quickly and easily a watering lance is a great idea. It eliminates the need to bend and over and can deliver water precisely where you need it. It can also be used to water pots and containers without the need to bend down to target the plants. Our Flopro Activ Watering Lance has a long reach, one hand flow control and a fully adjustable head that can be angled in any way with 4 spray patterns.
Pots & Containers
Use our spray guns for a variety of spray patterns. Our Flopro Soft Flo Spray Gun is especially good for watering pots. It has an oxygenated flow to ensure the water does not disturb the soil which is ideal for hanging baskets or pots when you don't want to accidently blast compost all over your patio!
The Soft Flo gun is designed to be lightweight and comfortable to use. It features one hand flow control for ergonomic use as well as a handy hanging hook.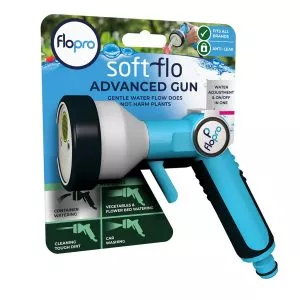 Watch our video to find out more about how it works