Its important to choose the right cutting tools
Pruning in your garden covers a variety of plants with anything from soft growth holding lots of sap to woody branches. With a vast range of cutting tools available its important to learn the difference between the two cutting mechanisms, the Anvil Vs. Bypass cut. Furthermore, not only are a good pair of secateurs or loppers essential but choosing the right style for the job is imperative. To perform at their best, they should have good quality blades that keep a sharp edge. They should also feel comfortable in your hand for long bouts of pruning. Kent & Stowe's cutting range not only provide all of these features but actually have a huge amount of extra key benefits.
So
what's

the difference between an Anvil and Bypass Cut?

Anvil cutting tools have one blade that closes onto a cutting block. They are ideal for thicker stems and woody pruning rather than using bypass style. An anvil cut is more powerful than a bypass cut with minimal effort required. Ideal for the powerful pruning of dead wood.

Bypass cutting tools have two sharpened blades that pass over each other to make a clean and precise healthy cut in a scissor action. Ideal for cutting delicate stems as the bypass action is less likely to cause bruising and damage to the stems.

The design of the blades on secateurs make it easy to get into small gaps and to prune side stems flush with main stems. Never use your bypass secateurs to cut through stems thicker than the recommended cutting diameter, we recommend you keep your packaging to refer to as this can easily cause damage.

If you have some thicker branches to chop through, loppers or a pruning saw are better alternatives.
Kent & Stowe Cutting Tools
Eversharp secateurs are our newest, sharpest range. With the sharpest, hardest, anti-rust blades on the market, these secateurs will stand the test of time and come with a confident 10 year guarantee. They also have an array of features such as an adjustable hand sizer and integrated cutting wire and string notches. Additionally they can be used by both left and right handed users.
Available as bypass for deadheading flowers and pruning live wood, and also anvil for pruning of hard, dead wood.
Our professional range of secateurs also include features such as wire cutting notches with sap grooves on the bypass versions to direct sap away from the blade. Both our bypass and anvil secateurs are made with high quality SK5 carbon steel heat treated blades, with dual position catch allowing you to adjust the span of the handles. These secateurs include rubber cushioned shock absorbers providing smooth working and soft closing. As well as our range of loppers which include premium ground carbon steel blades with non-stick PTFE coating for rust resistance and a smoother cut. Both telescopic and geared versions available. Loppers are ideal for larger, more difficult to reach branches. Kent & Stowe bypass loppers also include sap groove to direct sap away from the blades preventing them from sticking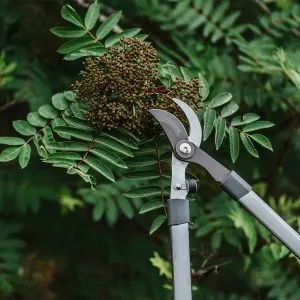 Other Kent & Stowe Varieties
Ratchet secateurs cut in stages and are great if you have a weak grip, as you do not need to apply much pressure to make the cut.
Cut-and-hold secateurs hold the stem after cutting, so you don't have to bend down to pick up clippings.