Choosing the right gloves for the task is very important. Kent & Stowe have a range of gloves to suit every gardening job. Whether you are pruning roses, clearing garden waste or potting and planting our hard wearing comfortable gloves offer complete protection and exceptional dexterity. We aim to protect hands ensuring the best possible comfort while out in your garden.
The range has every beneficial pair of gloves including premium leather for hard wearing tasks to gauntlet gloves and riggers as well as bamboo and jersey cotton gloves for more delicate tasks.
The ladies range features beautiful patterns unique to Kent & Stowe including garden bugs, meadow flowers and peony to make a statement while gardening.
We want to help you get the most out of your gardening accessories. Here is just a few of our gloves range and their great features to help you choose the right pair.
Luxury Leather Gloves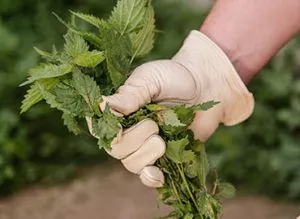 Kent & Stowe Luxury Leather Water Resistant Gloves come in a tan colour. These gloves are water resistant, perfect when gardening in harsh weather conditions, ensuring gardening jobs are an easy and enjoyable task.
The keystone thumb ensures maximum comfort with reinforced extra stitching and improved dexterity. They are perfect for garden tasks including heavy weeding and larger pruning and planting jobs.
Our luxury leather water resistant gloves are available in various sizes:
Ladies Small
Ladies Medium
Men's Medium
Men's Large
Kent & Stowe Luxury leather gloves have similar features to our water resistant versions. Made with soft supple premium leather, golden yellow in colour. Keystone thumb included for maximum comfort and reinforced extra stitching and improved dexterity.
The elasticated wrist makes the perfect fit with fleece lining for warmth and additional comfort, no excuses to avoid those necessary garden jobs during the colder months.
These golden leather gloves are useful for clearing garden waste protecting your hands from thistles and stinging nettles. Furthermore, use for heavy pruning tasks and digging jobs.
Our luxury leather water resistant gloves are available in various sizes:
Ladies Small
Ladies Medium
Men's Medium
Men's Large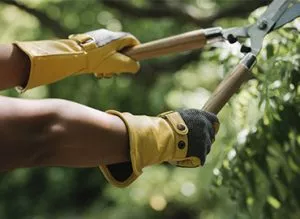 These Kent & Stowe Luxury Leather Gauntlet Gloves, golden yellow and herringbone give a premium look. The ideal glove for women to carry out heavy duty tasks. They feature an extended safety cuff to protect wrists and lower arms. These extended cuffs are necessary for pruning tasks acting as a barrier against thorny plants and bushes.
Made with soft and supple leather, strong enough to withstand any task. Featuring an adjustable pull strap with snap button wrist to create the perfect fit as well as a keystone thumb for maximum comfort and reinforced extra stitching with improved dexterity. These gloves include fleece lining for extra warmth and comfortability.
The Men's Kent & Stowe gauntlet gloves have similar yet unique features to the women's version. The extended cuff is made from suede for the same purpose of offering full safety to wrists from thorny plants and bushes. The leather palm and fingers help with further protection therefore ideal for carrying out heavy duty garden tasks where further protection to hands are required.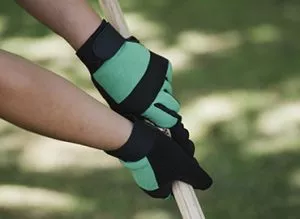 These flex protect multi-use gloves are useful for medium to heavy duty tasks such as pruning, planting and weeding. Available in 3 colours and various sizes, suitable for both men and women. They provide unbeatable flexibility and comfort with foam padding for extra protection.
The gloves have an adjustable wrist with closed cuff for a snug, tight fit. This feature helps debris prevention whilst in the garden. These also include a touch screen thumb and index finger, very practical when out in the garden with your phone.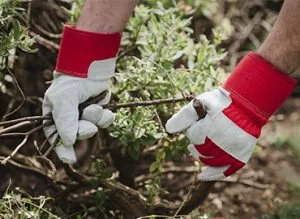 Kent & Stowe have a range of rigger gloves, varying in colour and sizes, ideal for men and women. These are hard wearing, practical for tougher garden tasks including digging or clearing garden debris such as hedge/ tree cuttings or rose bush cuttings, with thorn resistance material for added protection. All of these come with safety cuffs for extra wrist protection.
Our red and navy rigger gloves are thermal lined for warmth and comfort, ideal for wearing during the colder months whilst out in the garden.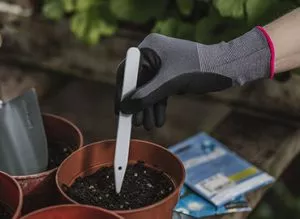 Seed and weeding are common gardening jobs, our gloves make the perfect fit for these tasks. They are water resistant, lightweight and constructed with breathable fabric for supreme comfort. They are designed with an elasticated wrist, highly flexible with good dexterity for intricate tasks.
Available for both men and women, ranging in sizes. Red detailing for men and pink detailing for women.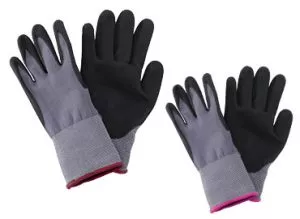 Water Resistant Gloves
Kent & Stowe have introduced two pairs of water resistant gloves, ideal for men and women. Our men's pair offer firm grip in wet conditions, designed with a knitted wrist for comfort and to keep out debris. T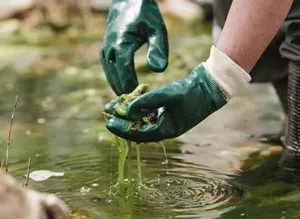 hey are also thorn resistant therefore ideal to use for weeding tasks.
Our women's gloves are constructed to a soft and comfortable tailored fit. Perfect for light duty tasks such as watering and planting. Ideal for various weather conditions.
Premium Leather & Comfort Gloves
If you are a gardener who loves current trends or decorative gardening accessories Kent & Stowe have a range of unique, beautiful patterned gloves. Perfect for general garden duties including pruning, weeding and planting. These gloves are luxurious, offering supreme comfort while gardening.
Our ladies premium leather gloves have an elasticated wrist for the perfect fit with palm padding and finger reinforcement for added protection.
The ladies premium comfort gloves are multi-feature for carrying out general gardening tasks in maximum comfort. Constructed with a foam knuckle and palm padding for added protection, an adjustable Velcro wrist with closed cuff ensuring debris prevention, beneficial to prevent cuts and scrapes as well as protecting any existing cuts or grazes. These gloves also feature a touch screen thumb and index finger, ideal when phones are necessary during gardening.