Gardening in January means you can get a head start in improving your soil for this year's plants and crops, and take essential time out to plan any seeds you would like to sow.
Essential checklist for January Gardening
Improve your soil
Purchase seeds
Start to sow seeds such as Sweet peas
Tidy your shed and sharpen tools
Clean your greenhouse and plant pots ready for spring
Prune apple and pear trees
Prune Wisteria and roses if you haven't already done so
Keep putting our food and water for birds
Warm the soil in preparation for planting vegetables outdoors
Last chance to…
Prune grape vines before the sap rises
Improve your soil
Soil cultivation and digging over can be hard work, but it need not be back-breaking work if you use the right tools for the job. If you have clay soil you should dig in a bulky organic matter such as Westland Bio-Life Soil Improver or Westland Farmyard Manure to improve drainage. Only work on this soil type if the weather has been dry, otherwise it will be a bit of a sticky mess.
If you have sandy soil, dig in plenty of organic matter as above to aid water retention.
In chalky soil, which can often be full of stones, again add organic matter to increase the soil depth, aid water retention and improve the nutrient content as nutrients will be locked up in the soil and become unavailable to plants if not improved.
Purchase seeds
Planning out what seeds you would like to sow this year is an exciting task. To ensure you get the best choice of varieties, it's worth buying them earlier rather than later. There are plenty of garden planner apps available to help you plan the year ahead.
Start to sow seeds
The arrival of the New Year does bring with it the opportunity to sow some seeds indoors for the year ahead. Although, sowing early will require a little patience, you can prevent certain issues by cleaning everything that will come into contact with seeds or seedlings. Ensure you use a good peat free compost such as John Innes Seed Sowing Compost, or a very fine peat compost such as Gro-sure Seed and Cutting Compost for smaller seeds. Seeds such as Sweet Peas Dahlias, Delphiniums, Chillies, Basil and Aubergines can all be sown indoors.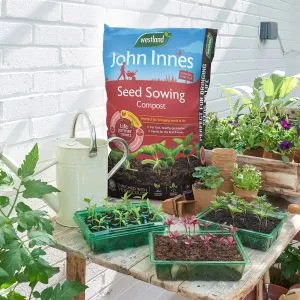 Tidy your shed
January is a great time to have a tidy of your garden shed, throwing away any rubbish that has accumulated over the year. Clean, sharpen and oil your gardening tools so that everything is in good working order when you come to use it. Sharpening blades on tools such as secateurs and hoes makes a huge difference in how easy they will be to use. Find out more about to how to care for your garden tools here.
Greenhouse and garden pot cleaning
Clean used flower pots, seed trays and even plant labels (to save you buying more). You can easily set aside a day for the task of cleaning as there is much to do. Remove all of the plants, and place in a sheltered area with fleece protection if necessary while cleaning is carried out. Then brush all of the debris out of the greenhouse and dispose of it. Next clean the structural parts to the greenhouse with a disinfectant of your choice. Clean all of the windows inside and out and remove any dirt trapped between the panes of glass. You can also take this opportunity to replace any broken parts such as vent controllers or glass panels. It's also a good idea to clear out any leaves and debris from your gutter to stop the unwanted build-up of material in water butts as well as get rid of any standing water that may have become green with algae in your water butts or tanks.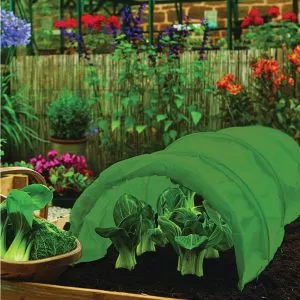 Prune apple and pear trees
Winter is the best time to prune your apple and pear trees as the leaves have fallen. Ensure you have a sharp pair of secateurs and a pruning saw for the job and aim to take about 10-20% of the overall canopy off, then work around the tree evenly, careful not to over prune, as the more you prune the stronger the regrowth will be. Pruning too much means your tree is likely to produce vigorous upright branches called watershoots which is not ideal.
Prune Wisteria and roses
January is a good time to prune back Wisteria to remove wispy growth and old wood.  Prune back to two buds, as this hard pruning will control leafy growth later in the season.  Less leaf growth allows the beautiful lilac sweet scented flowers to show off their glorious colours.  Roses should be cut back to remove dead growth, watershoots and dead flowers. Be sure to use a slanting cut away from the healthy buds to avoid diseases.
Remember to keep putting out food and water for the birds
January gardening is also ensuring you put out extra food for garden birds. This will be a huge and important contribution to supporting wildlife through the winter months. See how you can take care of birds by following our Winter Bird Guide.
Warm the Soil
As weather can be hugely unpredictable at this time of year, check first to see if the soil is cold and wet, as you will need to do the digging and seedbed preparation later if this is the case. To get the soil ready for early sowings, you can cover it with clear plastic sheeting, garden fleece or a cloche a few weeks before you intend to make your first sowings, and only remove just before you sow. By doing this you will find the soil warm and dry. It will also encourage a flush of weeds.