A rockery or Alpine garden is a great addition to any garden. It is easy to create, low maintenance and will look good all year round. It's also a good activity for the kids to join in with too.
What are Alpine plants?
Alpines live on mountains, above tree lines where there is good drainage and most often cold, dry winters. They are ideal to plant in rock gardens if you have minimal space. Even though they are compact and small, they come in a wide variety of colours and foliage so you can create an impressive display even in the smallest of spaces.

What you'll need
Rockeries require quite a lot of materials but we've put together a list of the key products and materials you'll need to make it easy for you to create your own.
Selection of rocks, broken bricks and stones
Selection of Alpine plants and smaller shrubs and perennials
Any pots or containers
Choosing the right spot
First, choose where you want your rockery to be. Alpines like plenty of sunlight, but they also like to be protected from strong winds and exposure. Choose an area of the garden that the plants will be in sunlight for the most part of the day, away from overhanging trees or tree roots. Make sure the area is free from weeds too.
Laying the base
Mark out the area you want your rockery to be. Build a base using stones, rubble or broken bricks about 15cm (6″) deep. You can also use ballast or pea shingle. You can then lay a polythene sheet or garden fabric over the top with holes punched with a 10cm spacing. This will prevent the base layer from mixing with the compost.
Positioning your rocks
Using a spade, dig cavities to set your rocks and stones in to. Start with larger rocks and stones and position the smaller ones around them.
Laying your compost
Layer Westland's Alpine Planting & Potting Mix around the rocks. This grit-based mix has been specially blended with added Zinc complex which naturally supports plant health for a stronger and healthier alpine garden. It is also a free draining mix which prevents water logging; perfect for alpine plants as they need excellent drainage to thrive.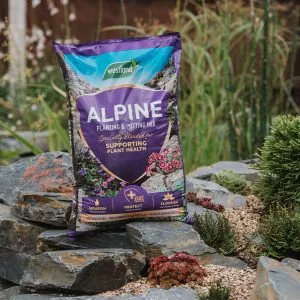 Bury the stones in the mix, up to a third of their depth and firm them in place. Create holes in the compost around the rocks ready to place your plants. The holes need to be twice the depth and diameter of the plant's root ball
Planting
Place the plants in the holes, fill the gaps with more compost and firm in and water. Top with a layer of Westland Potting Grit. This will provide extra drainage and will create a decorative finish.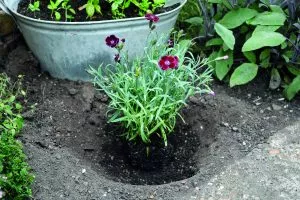 Potting
If you want to create a small rockery in a pot or container, make sure the pot has adequate drainage holes. Thoroughly water the plant, gently tap the pot to remove plant and shake off loose compost. Half fill the pot with Westland Alpine Planting & Potting Mix, place the plant in the pot, fill gaps with more compost, firm in and water. Finally, top with a layer of Potting Grit.