Learning how to grow vegetables is one of the most rewarding things you can do. Nothing compares to serving up your own spuds with a Sunday Roast or adding those carefully tended carrots to a soup or stew. Find out how to grow, with the help of our peat-free New Horizon compost, which is kind to your plants as well as the planet.
How does New Horizon All Vegetable Compost work?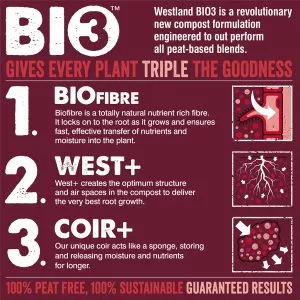 Once your vegetable seedlings are ready for planting out or potting on, New Horizon All Vegetable Compost makes the perfect partner. It's a naturally peat-free formulation that gives your vegetables triple the goodness. It has the perfect blend of Biofibre, West+ and Coir+ to give fruits and vegetables every reason to thrive. You can also combine this compost with top soil to create raised beds or a vegetable patch.
When to use it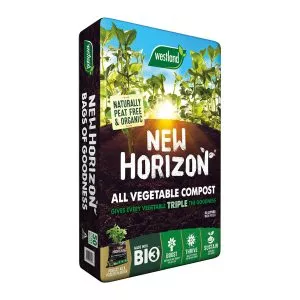 New Horizon All Vegetable Compost can be used all year round from January to December. We recommend using the product in a well-ventilated place and avoid breathing in dust. Always wear gloves when gardening and wash hands after use.
Which plants can I use it with?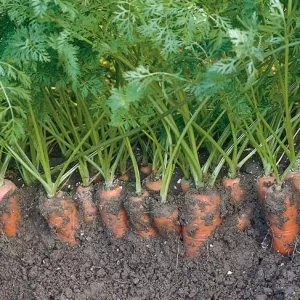 Specially blended for all types of vegetables, the world is your oyster when it comes to this compost. Take a look at our A-Z of growing your own veg to discover all the delicious varieties you can grow. Did you know, a bag of New Horizon All Vegetable Compost can also be used as a potato growbag with no container necessary? Check out our handy article here.
Planting out vegetable plants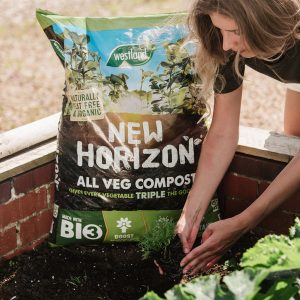 Whether you've grown from seed or bought young plants, it's important to plant out/pot on your crops only once the danger of frost has passed. Vegetable plants should be acclimatised (hardened off) for a week or two before they're moved outside for good, as this will help to reduce the shock of being planted out. During this time, they should be outside in the milder weather during daytime and moved into a conservatory or greenhouse at night. We also recommend watering your plants thoroughly during this time, as it makes them easier to remove from their pots.
Planting guide
If you're looking to grow vegetables in a container or pot, make sure you choose one large enough for the plants once fully grown, so that they won't become over-crowded.
Planting in a bed or border? Break up the soil with a fork and remove all weeds and their roots.
Work out the correct spacing for your plants and position them in their planting position so that you can make sure that you are happy before they are planted.
Dig a hole for each plant and loosen the soil at the bottom and on the sides with a hand fork.
Take each plant out of its pot and position it in a prepared hole, making sure that the top of the roots is just below the level of the surrounding soil.
Fill in around the roots with New Horizon All Plant compost and firm in gently.
Water each plant and keep them well watered throughout the growing season.
Tall plants such as runner beans, peas and outdoor tomatoes will need stakes to support their growth.