Please note this product has been retired from the range. However, you may still be able to purchase this item online or in store. Should you have any queries or issues with the product please do get in touch. Please see our new peat free version
Westland John Innes No.2 Potting-on Compost feeds and establishes for a healthier plant life. Developed specially to help all young plants and ensure healthy root and shoot development.
With added Potassium humate, a bio stimulant for healthy growth. Peat and loam for perfect nutrient, moisture retention as well as sand and grit for excellent drainage.
Develops strong, healthy plants
Feeds for up to 5 weeks
Added potassium humate for root & shoot growth
No green waste
For further results on your plants, view our plant food range.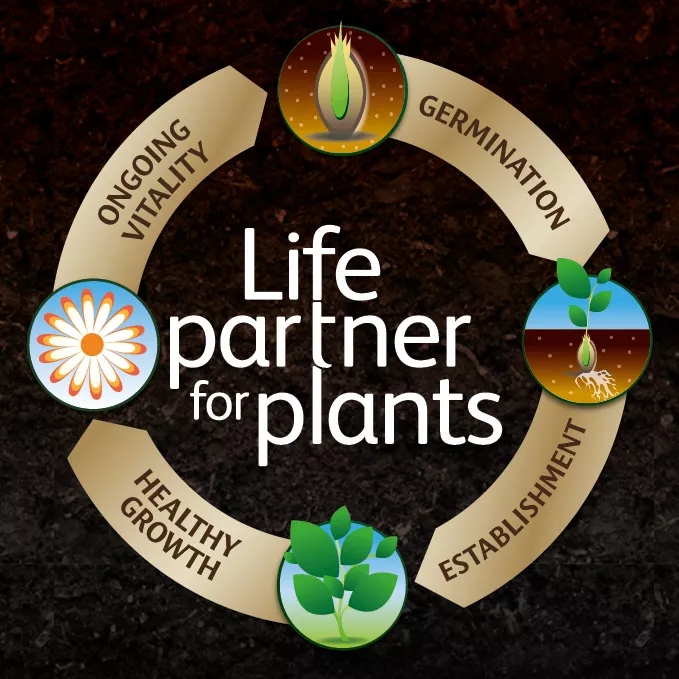 Sizes available
Product Details
How to Use
Tips & Advice
Why Use
John Innes composts were developed over 50 years ago and are based on a traditional recipe of loam, peat and horticultural grit with added nutrients. John Innes No 2 Potting-On Compost, a loam based compost which is a naturally reduced peat mix, is specifically designed for the growth & establishment of plants.
This compost has a rich, nutrient content making it suitable for vigorous plants such as Tomatoes, Cucumbers, Geraniums, Fuchsias and most house plants. It is easy to water and re-wet and the high loam content acts as a buffer for nutrients to help stabilise plants in pots and containers. It also contains Potassium humate.
The benefits of added Potassium humate
Potassium humate is the potassium salt of Humic acid. It helps to create healthy soil conditions through aeration making the soil easier to work with. It also assists with the availability of micro-nutrients such as Calcium, Iron, Manganese, Zinc and Copper.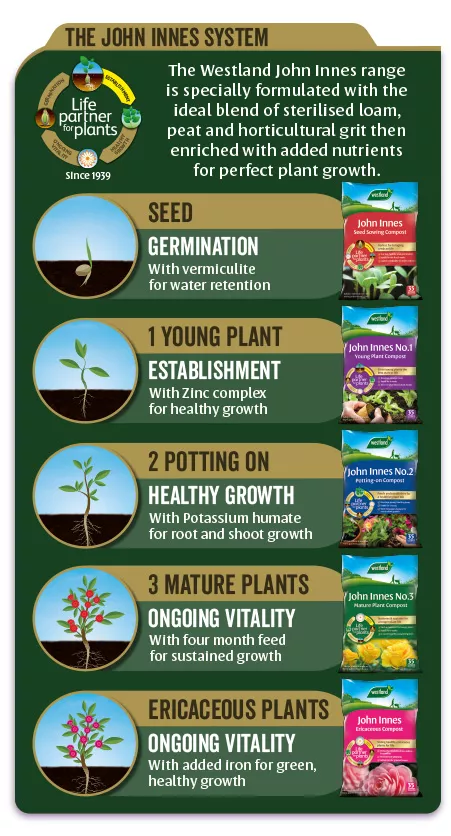 When to Use
Use all year round January to December
How to Use
Potting
Thoroughly water the plant, gently tap the pot to remove, shake off loose compost
Place plant in new pot with new compost, fill gaps with new compost, firm down and water
Planting out
Dig a hole approx. twice the depth and diameter of the root ball
Place plant in hole with the new compost, fill gaps with new compost, form down and water
General Advice
Use in a well-ventilated place and avoid breathing dust
Always wear gloves when gardening and wash hands after use
Store in a frost-free place and away from weed killers and other garden chemicals
Frequently Asked Questions
Q. What are the differences between John Innes Composts?
A. John Innes Composts are designed to be a life partner for plants. John Innes Seed Sowing Compost has a small amount of nutrients to encourage germination. John Innes No1 has a little more nutrients, perfect for transplanting seedlings. John Innes No2 is used for potting on young plants and John Innes No3, which has the most nutrients, is best used for final potting up of plants. John Innes Ericaceous is suitable for all acid loving (lime-hating) plants
Q. Will my pets or wildlife be attracted to this product?
A. John Innes No 2 Potting On Compost does not contain any organic elements so shouldn't be attractive to animals.
Q. Can I use this compost for my houseplants?
A. John Innes No 2 will be perfect for potting on seedlings and young plants and for re-potting houseplants, you could also consider using our Westland Houseplant potting mix
For any questions or advice, please contact our technical advice line on: 01480 443789 (Mon – Fri 10am – 4pm) or email customerservice@westlandhorticulture.com