When the leaves begin to tumble, it's time to tidy-up some of the garden ahead of winter. Misty autumn mornings and cooler days present a great opportunity to get plots looking ship-shape before the weather takes a turn for the worse. The number one priority should be to remove leaves from lawns. Left to rot on damp turf, a carpeting of leaves will deprive grass of light and air, resulting in bare patches. Damp, decomposing leaves create an ideal environment for lawn moss to thrive, too. Fallen leaves on lawns, paths, patios and driveways can be a slip hazard too.
In addition, pushing lawnmowers over excessive debris risks damaging the blades and can clog mowers up with wet debris.
Choosing the right tool to remove leaves
Leaf Rakes
Using a leaf rake is the simplest way to remove leaves from your lawn. If conditions are breezy, rake lawns in the direction the wind is blowing – it'll make the job easier. A 3 in 1 rake is a perfect tool to use for clearing and collecting leaves from different areas of the garden. Use it for clearing large areas like lawns with its extra wide head, as well as for tighter spaces around beds and borders too. With its detachable heads, you can easily rake around plants and bushes where a large rake head is too big.
Once you have raked a leaf pile, you can then detach both the rake heads to create leaf grabbers. Instead of using your hands to pick up the leaves, you can use the grabbers to pick them up and put them to good use.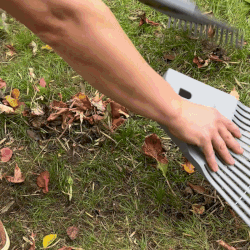 Leaf Blowers
An electric leaf blower/vacuum can make light work of clearing fallen leaves from larger expanses of lawn – as well as from paths, driveways and patios. Leaf blowers are quite cheap but make sure you have a large sheet to blow the leaves on to for easy removal. A vacuum is more expensive but will hoover up the leaves for you too for a faster and easier disposal.
How to remove leaves
You can also use garden tidy bags or sheets to collect the leaves up from around the garden. A great sustainable way to reuse empty compost bags is to use them as a garden tidy bag for adding leaves or any other garden rubbish. You can also use them as a home composter too. Find out other sustainable gardening tips here.
Leaves that have tumbled to the ground are a valuable commodity, and can easily be transformed into a brilliant home-made compost ingredient or soil conditioner by making leaf mould.
Leaf Mould
Beech, hornbeam and oak leaves make the finest leaf mould, but thicker leaves such as horse chestnut should be to be shredded first, as they take longer to break down. To speed up the process, use a lawnmower to shred leaf debris and combine it with grass clippings before placing the material in a bin liner. Moisten the debris, loosely seal the bags at the top, pierce bags with a knife and then store out of sight for a couple of years.
Read our full guide to creating leaf mould here.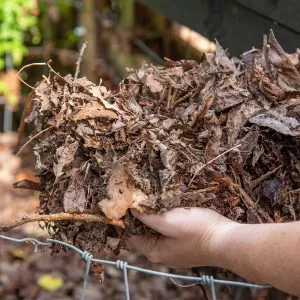 Composting
If that's too long to wait, you can also remove leaves by adding them to the compost bin to make soil improver. Home composting is a sustainable way to create natural, rich supply of food for your garden. By adding food and garden waste, you are recycling large amounts of waste that would otherwise end up in landfill.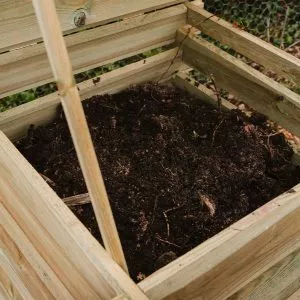 Compost bins full of last season's waste can be emptied and spread on borders and veg patches as a soil improver. If the compost at the base of a heap is brown and crumbly, it's ready to use. If compost isn't ready, leave it for longer and use a garden fork to turn it – it'll speed up decomposition, but don't add fresh material. Put this year's waste into a new compost heap. When adding this season's waste to a new heap, mix materials together. Micro-organisms that break down waste material into compost are most efficient when heaps are made from 50% soft green waste (grass clippings and annual weeds) combined with brown waste (dead leaves, plant prunings, straw and cardboard). For a speedier process, try using a compost maker as this will speed up the natural process of composting, whilst also creating a better quality compost.