There is nothing more rewarding than growing your own veg and serving them as delicious food on your plate. To get the very best vegetables it's important to give them all the right nutrients and care they need. If you feed them the best, they will feed you the best.
Westland Organic Vegetable Plant Foods are specially tailored to meet the needs of your veg. Available in granules or liquid form, these feeds will provide all the essential organic nutrients needed to boost the growth of veg. They will also help to support the plant's health.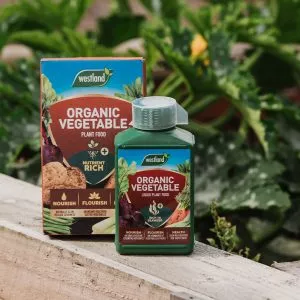 Our Organic Vegetable Liquid Plant Food is a slow release feed that boosts nutrient availability and contains Phosphorus which encourages strong roots. Whether you are growing veg in a raised bed, planter, grow bag or in the ground, this feed will help prevent disease and produce an abundance of stronger, healthier as well as tastier vegetables.
Feed your crops weekly by following these steps:
Fill a watering can with 4.5L of water (1 gal)
Measure 50ml using the dosing cap
Mix the feed into the watering can
Without wetting the foliage, apply around the plant until saturated
Then all you have to do is watch them flourish into delicious, wholesome vegetables.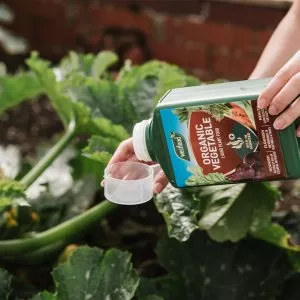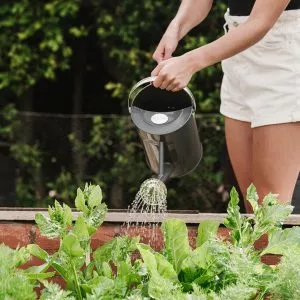 Westland Organic Vegetable High Performance Plant Food is also rich in organic nutrients that boosts vegetable crops. It naturally releases all the goodness your plants need slowly to control strong, steady growth. This feed will also support plant health and helps to build immunity, therefore producing stronger and healthier vegetables.  Use this feed to prepare the soil for your vegetables, applying 2-3 weeks before planting to allow the fertiliser to start working, then apply every 3-4 weeks to keep them healthy.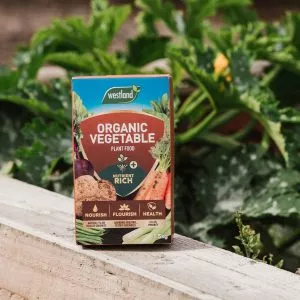 How to Use
When planting in the ground, raised bed or planter: Spread 100g/sq.m of granules (approx. 2 handfuls) evenly over the bare soil
Work the feed evenly into the soil whilst digging or using a rake
When planting in a grow bag: Mix 100g of granules (approx. 2 handfuls) evenly into 60 litres of compost before putting the compost into the grow bag
If planting potatoes, fill the grow bag with approx. 40 litres of compost, plant the tubers and cover with 10cm of compost. When the shoots emerge, cover with more compost and continue earthing up the potatoes until the compost is 5cm from the top of the bag
With other vegetable plugs, fill the grow bag with 50L of compost and plant the plugs as normal
Find out more about all our specially tailored plant feeds here