Want to learn about growing tomatoes? We have put together our top tips below: everyone wants to be proud of their home-grown tomatoes as the biggest and the juiciest. There is nothing more satisfying than picking and eating a home-grown tomato.
Sowing Tomato Seeds
There are many varieties of tomato seeds to choose from. From juicy beef tomatoes to yellow cherry tomatoes, Unwins have a wide selection to choose from.
If you want to learn how to grow tomatoes from seed, the best time to sow them is normally around the middle of March. This is because by this point the risk of frost should have passed and it should have started to get warmer.
Fill 7cm (3inch) pots with a peat free multi-purpose compost then place seeds on top.
Cover with around 5mm of compost. Label and water and keep the seeds in a warm area to start with such as  in a greenhouse, on a windowsill or on a heated propagator mat.
The seeds should germinate within a couple of weeks.
Once ready to prick out, carefully lift them by the leaf, not the stem and transfer to a new pot.
Read our guide on how to grow veg from seed for more details on sowing seeds.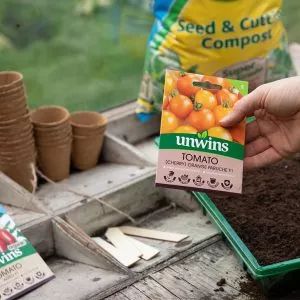 Growing Tomatoes
Once the seedlings have grown large enough, they need to be planted into larger pots or into a tomato planter. If you have bought tomato plants, they need to be planted out into pots or growbags. We advise growing your tomato plants in a tomato grow bag. This is because you can be sure that the soil conditions in the grow bag are ideal for the tomato plants.
It is a good idea to cut some holes in the bottom of the grow-bag before planting as this provides drainage to prevent water-logging. Cut holes in the bag to fit the tomato plants in. Create a nice sized hole for the plant in the soil and place the plant in this hole. Fill the soil back in around the plant and pat down. It is important to support the plant with a cane as it grows. The grow bags can be positioned anywhere, so you can get the best sun exposure and also wind protection. Feeding of the tomato plants can also be easily controlled with tomato planters. The Big Tom Tomato Planter is peat free and a good planter for tomato plants because it is seaweed enriched and feeds for up to 6 weeks.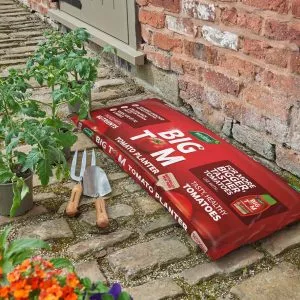 TOP TIPS:
Gently shake the plant so that pollen falls to pollinate the flowers which will then produce more tomatoes.
Pick out any side shoots that come between the leaves and the stem. If you don't do this you will get a big bushy plant. Removing the side-shoots also allows for better airflow around the plants.
When the plant is about 2 metres tall, pinch out the top of the plant. This helps the plant to focus its energy into growing tomatoes rather than the plant growing.
Feeding Tomatoes
One of the most crucial parts to growing tomatoes that are big and juicy is feeding them. Westland Big Tom is a tomato food enriched with the essential nutrients and will give you 3x more*, bigger and tastier tomatoes. With Plantsense Technology, this feed is perfected for peat free planters. It contains just the right amount of nutrients as well as a water management system which leads to quicker water absorption and makes it easier and faster to water.
As soon as you have tiny green tomatoes in your greenhouse, start to feed the plant – this is known as the first truss set. If growing tomatoes outdoors, start to feed once the second truss has set. Feed every 4-5 days in the greenhouse and feed every 10 to 14 days if outdoors.

Following our advice and using Westland Big Tom to feed your tomatoes should result in you having a fantastic yield of home-grown, big and juicy tomatoes.
*By weight vs unfed tomato plants