Our top tomato recipes will give you some inspiration for using up those juicy toms. Too many tomatoes? No such thing! You've done the hard work: growing, harvesting and storing your tomatoes. Now it's time to enjoy them! So we think the best thing about a bumper crop of tomatoes is that it can form the base for your whole meal, or even just a delicious flourish. These recipes are also perfectly easy if you are new to cooking, which is the beauty of the versatile tomato.
Warming Tomato Soup

This delicious tomato soup is sure to warm you up in winter
Ingredients
1-1.25 kg of ripe tomatoes, roughly chopped
1 medium white onion
1 medium carrot
1 celery sticks
2 tbsp olive oil
2 tbsp tomato purée
2 cloves of garlic
pinch of brown sugar
2 bay leaves
1.2 litres of vegetable stock (2 stock cubes)
Salt and pepper to taste
Method
Prepare all your vegetables. Pull the tomatoes off their vines, wash and chop into quarters. Make sure you chop off any hard cores. Peel the onion and carrot and chop into small pieces. Chop the celery into small pieces.
Spoon in 2tbsp of olive oil into a large pan and heat on low. Add the vegetables (apart from the tomato) and stir until they are soft. This will take about 10 minutes.
Put the tomato purée in the pan and stir across the vegetables. Add the pinch of sugar and add in the tomatoes. Tear the 2 bay leaves into a few paces and add. Mix everything together and cook on a low heat for 10 minutes.
Make up your vegetable stock. Then slowly pour into the pan stirring in with all of the vegetables. Turn up the heat to high until everything is bubbling. Turn the heat back to low and put the lid on the pan. Cook this gently for about 25 minutes. It should leave the tomatoes looking slushy!
Remove the pan from the heat and let the steam escape. Take out the bay leaves and leave your soup to cool for a few minutes. Then ladle the soup into your blender until about 2/3 thirds full and blitz. Repeat until all soup has been blended and transferred to a large bowel.
Pour the puréed soup back into the pan and reheat for a few minutes until you see a few bubbles. Add some salt and pepper to taste. More sugar if you need it.
Help yourself to a spoonful of crème fraîche if you're being good or double cream if you're wanting some luxury, to run through individual dishes and enjoy!
Homemade Tomato Chutney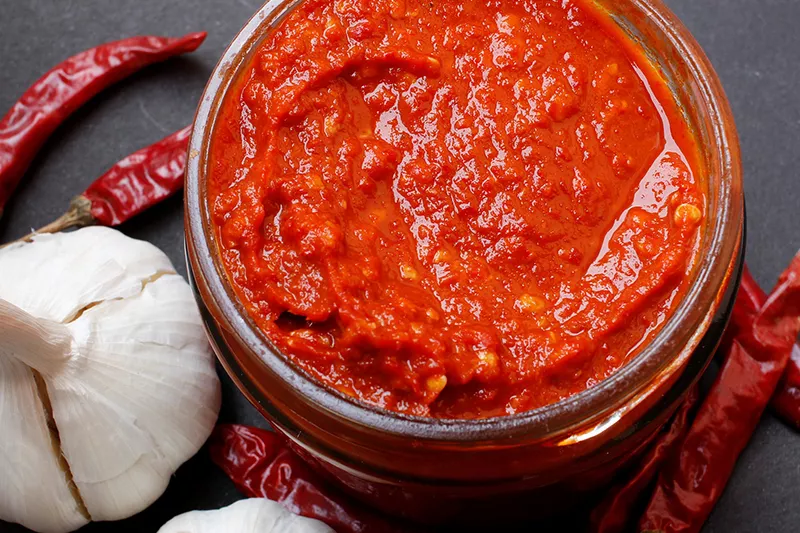 This delicious tomato chutney will last for around 6 weeks in a sealed jar in the fridge.
Ingredients
1kg of ripe tomatoes, roughly chopped
500g of red onions
1 red chilli
2 cloves of garlic
250g of brown sugar
150g of red wine vinegar
Salt and pepper
Method
Put all the ingredients into a large, deep saucepan and stir well.
Simmer for 1hr, stirring frequently until the mixture gets thick and shiny.
Leave to cool completely.
Sterilise your jam jars by washing in warm soapy water and drying in the oven at 140C.
Alternatively run them through the dishwasher.
Pour in your cooled jam, seal and put in the fridge.
Help yourself to a spoonful or two with a plate full of cheese and biscuits….yum!
Classic Tomato Passata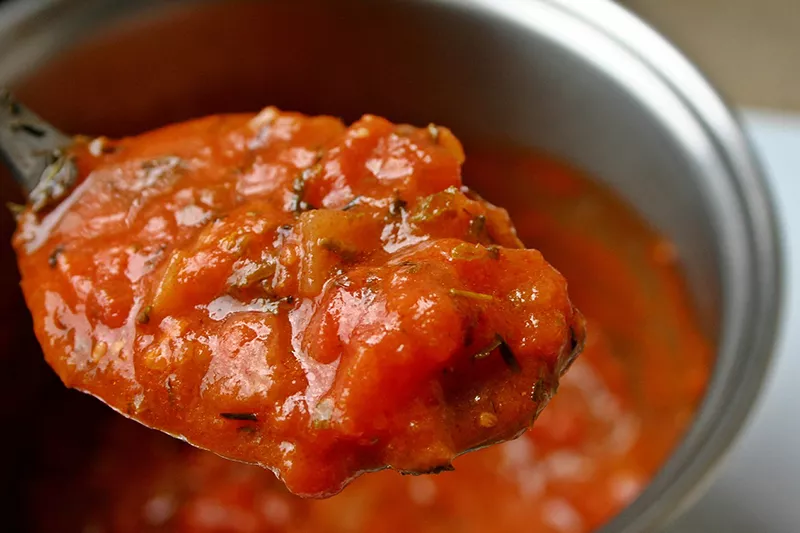 Out of all the tomato recipes, this one is a cooking staple! Perfect for a pizza topping or pasta sauce.
Ingredients
5kg ripe red tomatoes, washed, halved
500g onions, chopped
1 garlic bulb, cloves separated, peeled, bruised
1/2 cup (125ml) olive oil
1 bunch basil, leaves torn
Method
Preheat oven to 180°C. Grease 2 baking trays and line with baking paper.
Spread tomatoes, onion and garlic evenly across prepared trays. Then season with 1 tbs salt flakes and 1 tsp freshly ground black pepper. Divide oil evenly between trays and toss to combine.
Roast, swapping trays halfway, for 45 minutes or until tomatoes are blistered and onion has softened. Set aside to cool for 30 minutes, then stir through basil.
Whizz together with a hand blender, or pass through a sieve for an extra smooth finish.
Enjoy immediately, or leave to cool and freeze in a freezer bag. Defrost and enjoy within the next 6 months.
Spicy Tomato Salsa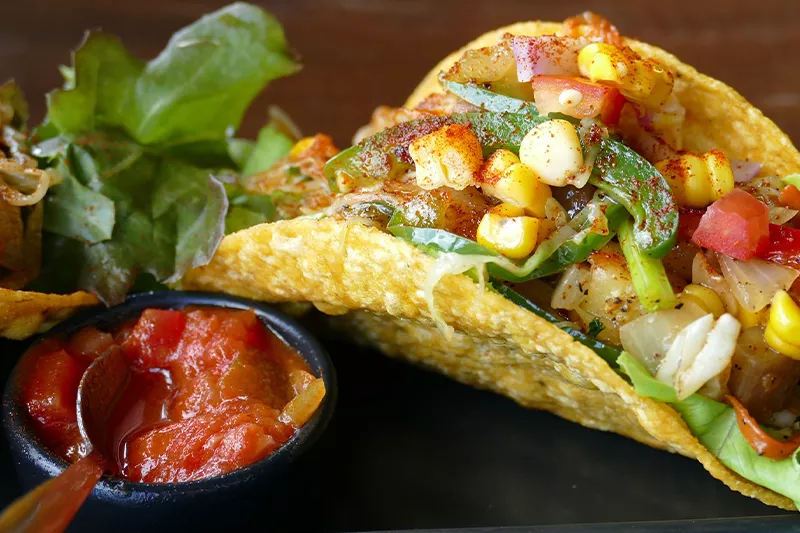 This dish is sure to put a smile on the faces of your dinner party guests… now where are the tortilla chips?
Ingredients
4-6 medium tomatoes, peeled and finely chopped
½ red onion, very finely chopped
1 small garlic clove, chopped
small splash of white wine vinegar
½ lime, juiced
½ bunch of coriander, roughly chopped
Chilli flakes or half a small red chilli, finely chopped
Method
Combine all ingredients well and add chilli to taste. Place in the fridge until needed, we recommend letting this infuse for at least a couple of hours.
Tomato & Goats Cheese Tart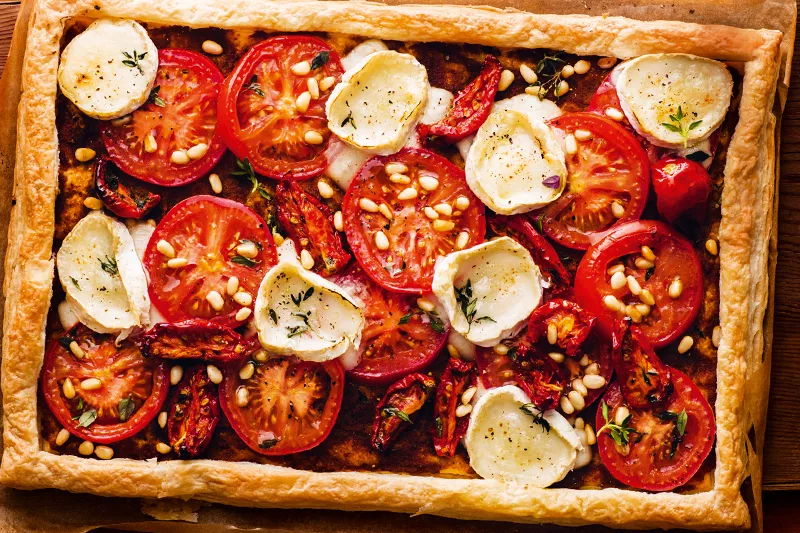 The perfect summer dish accompanied by a balsamic side salad (with more tomatoes!)
Ingredients
725g ripe plum tomatoes, or any other ripe medium-sized tomato
150g soft goats' cheese
4 level teaspoons chopped fresh thyme, plus a few small sprigs
375g (1 roll) of fresh, ready-rolled puff pastry
2 cloves garlic, peeled and crushed
2 tablespoons extra virgin olive oil
Salt and pepper
Method
Pre-heat the oven to 190°C. Unroll the puff pastry and place on a baking tray.
Tip the goats' cheese into a small bowl, add the crushed garlic, as well as chopped thyme and a good seasoning of salt and black pepper.
Give it a good mix and, using a small palette or other round-bladed knife, carefully spread the cheese mixture evenly all over the surface of the pastry.
Next, thinly slice all the tomatoes and arrange them on top of the goats' cheese in overlapping lines lengthways; overlap one line one way and the one next to it the other way.
After that, season the tomatoes and then drizzle the olive oil and scatter the sprigs of thyme all over them.
Bake in the pre-heated oven on the middle shelf for 55 minutes or until the pastry is golden-brown and the tomatoes are roasted and slightly charred at the edges.
Basic Vegetarian Curry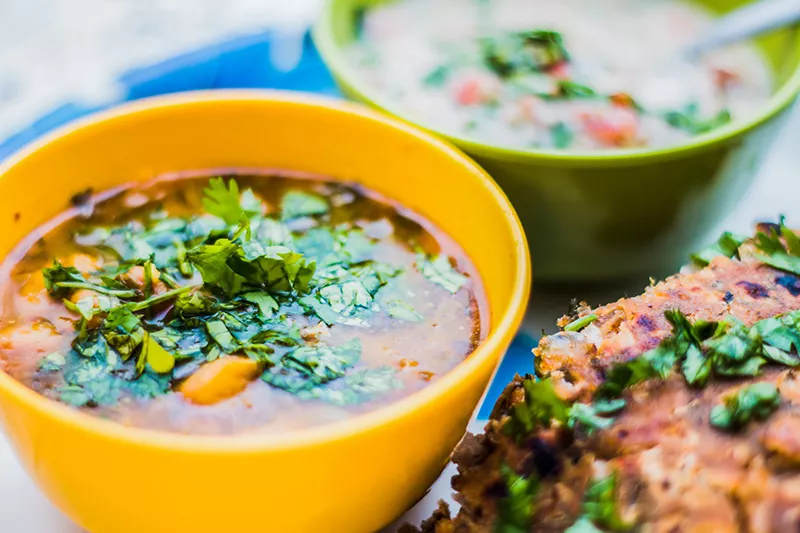 Packed with warmth and flavour, this spicy tomato recipe is the perfect place to show off your tasty toms.
Ingredients
900g large tomatoes
3 tbsp vegetable oil
2 thinly sliced garlic cloves
2 tbsp grated ginger
1 thinly sliced onion
1 deseeded and chopped red chilli
½ tsp paprika
½ tsp turmeric
1 tsp ground cumin
1 tsp ground coriander
1 tsp tomato purée
100ml hot water
Method
Cover the large tomatoes with boiling water in a bowl for 3 minutes. Drain, cover with cold water, then peel off the skins. Finely chop half the tomatoes and cut the remainder into wedges.
Heat the vegetable oil in a frying pan. Add the thinly sliced garlic cloves and grated ginger. Fry for a minute then add the sliced onion and deseeded and chopped red chilli. Fry gently for 6 minutes until soft but not browned.
Stir in the paprika, turmeric, ground cumin and ground coriander and fry for 2 minutes.
Add the chopped tomatoes, reserving the wedges, tomato purée and 100ml hot water.
Simmer for 10-15 minutes on a medium heat until thickened – add a little extra water if it's too dry. Next add the tomato wedges, season and simmer for 5 minutes until the wedges are soft but still holding their shape.
Serve with rice and as well as sprinkling of fresh coriander!
We hope you've enjoyed some our favourite tomato recipes! If you want to ensure you have a big juicy crop of tomatoes this season we recommend using our Westland Big Tom Tomato Planter. And if you want even better results we further suggest using our Westland Big Tom.