What is mulching?
Mulching is covering the surface of your soil with a loose covering. You can apply mulch to borders or to the tops of pots or containers.
There are many benefits to mulching, including:
Helping the soil to retain water by reducing evaporation. This means you don't need to water as much.
Suppresses weeds by adding a layer on top of the soil which starves the weeds of light
Improves organic matter in the soil and adds extra nutrients
Deters some pests
Helps the soil to warm up in soil
Protects the roots of your plants from extreme hot and cold temperatures
Give a decorative finish to your soil

There are two main types of mulches – biodegradable and non-biodegradable.
Biodegradable mulches break down gradually over time, releasing nutrients into the soil and helping to improve soil structure. This type of mulch will need replacing after it has broken down so is usually added each year.

Non-biodegradable mulches do not add nutrients to the soil, but do help to suppress weeds and conserve water. They also tend to add a nice decorative finish to your soil.
How to mulch?
Applying a mulch is very simple. Pile a layer of between 5cm-7.5cm thick of biodegradable mulch to your borders or containers.
The thickness of your layer of mulch is the most important part, so it is better to mulch half your garden with a thick layer every other year, than to mulch the whole garden each year with too thin a layer.
Take care not to smother low growing plants or to pile up the mulch against stems as this can cause the stems to soften.
For new beds and borders, you can use a mulch sheet, such as Weedstop.
If using a non-biodegradable mulch, layer this over the soil in a thick enough layer that you can't see the soil below. This type of mulch does not need to be as thick and the amount required will depend on the size of stones or gravel.

When to mulch?
Mulches can be applied in late autumn, after you have cut back, or in late spring, before annual weeds start to germinate.
What to use for mulching?
There are many different types of materials that can be used for mulching. Some are: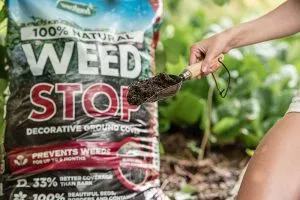 If you have made leaf mould, or your own homemade compost, you can also use this for mulching!