Weed Stop is a 100% natural decorative ground cover that prevents weeds growing for up to six months. It blocks the light that weed seeds need in order to germinate and impedes weed seeds and soil contact.
100% natural weed prevention
Protects plants roots
Enhanced water holding
Closer to bark aesthetically
33% better coverage than bark
Sizes available
Product Details
How to Use
Tips & Advice
Why use
Westland Weed Stop is a protective and decorative natural mulch which is ideal for use in beds, borders, planters, containers and pots.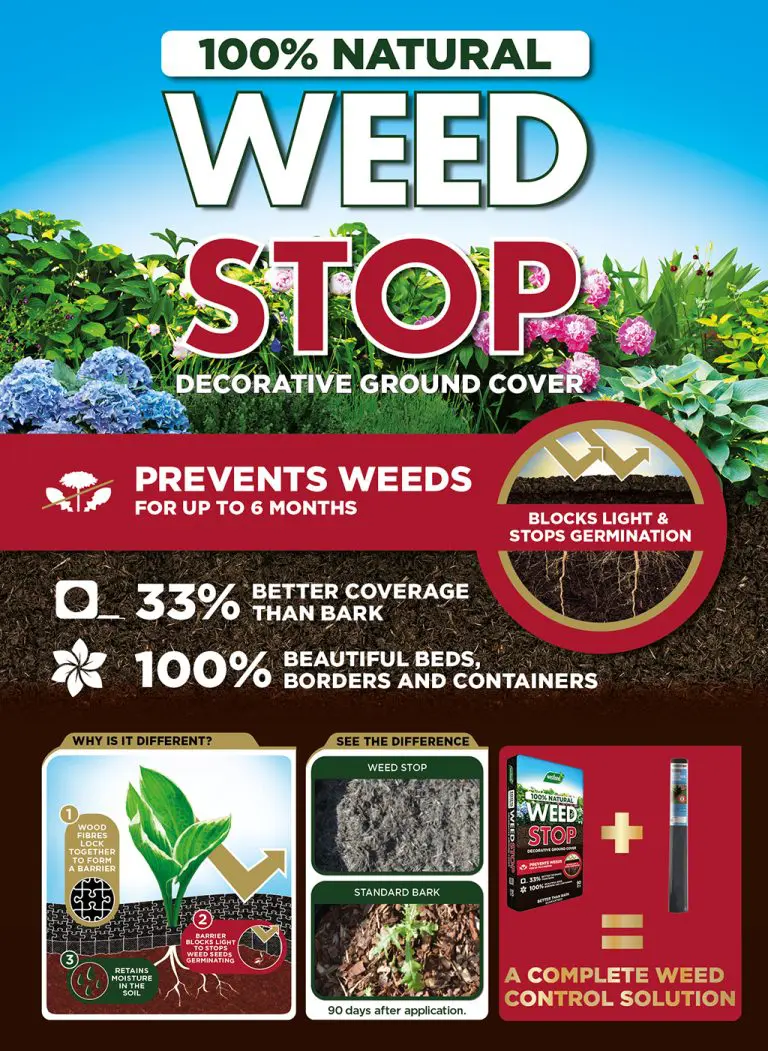 How to use
Preparing the area
Clear away any weeds in the application area completely before using Westland Weed Stop; it's important that you remove the roots of any perennial weeds too.
Water plants and soil before applying to ensure the soil is moist.
Application
We recommend wearing gloves when handling Weed Stop.
Spread a layer of Westland Weed Stop 3cm deep over the soil surface, ensuring that the soil is evenly and completely covered.
When spreading, break up any clumps and fluff up the mulch to incorporate air.
After spreading, water over the surface of the mulch – this will lock the fibres together.
Use in a well ventilated place and avoid breathing in dust.
Aftercare
If any weeds appear, remove them as soon as possible to prevent them from spreading.
Westland Weed Stop will stay effective for years after application, but may need occasional replenishment to maintain a thick layer on top of the soil surface.
Coverage
A 90 litre bag can cover up to 2.4sqm at a depth of 3cm.
General information and advice
Don't apply to frozen ground
Westland Weed Stop is great for use with garden bulbs – bulbs will grow through the barrier and flower normally
Westland Weed Stop is safe for use with ericaceous, lime-hating and acid-loving plants
Store in a dry, frost-free place away from weed killers and other garden chemicals
Reseal the bag after use
Frequently asked questions
Q. Can my children & pets go into the treated area?
A. Yes, children and pets can go back into the area straight after application
Q. Will my pets or wildlife be attracted to this product?
A. Westland Weed Stop doesn't contain any organic elements, so shouldn't be attractive to animals.
Q. Can Westland Weed Stop be dug into the soil?
A. Yes, Westland Weed Stop is an organic material and can be dug into the soil.
For any questions or advice, please contact our technical advice line on 01480 443789 (Mon-Fri 10am-4pm) or email customerservice@westlandhorticulture.com