There has certainly  been a shift in behaviour when it comes to sustainable gardening, and sustainability in general. People are more mindful than ever about ways we can help look after our planet. So whether that's recycling, supporting our pollinators or eating less meat.
Sustainable gardening with New Horizon
New Horizon is our 100% sustainable compost, with a totally peat-free composition. Previously,  gardeners had to choose between making a greener choice that didn't perform quite as well, or opt for a peat-based compost. This compost can come with the negative environmental impact
But with New Horizon, there's no compromise needed. Our New Horizon range has been independently trialled and it performs on par with peat-based products. Therefore you can have complete peace of mind. It has been developed using Westland's BIO3 formulation to outperform peat based products. Furthermore, product trials show that it is far superior to other competitive peat-free products.
At Westland, we're passionate about sustainable gardening and about providing our customers with the most innovative  and best quality products. We are also passionate about protecting the environment and are committed to ensuring we lead the way as a responsible horticulture business.
How to re-use New Horizon bags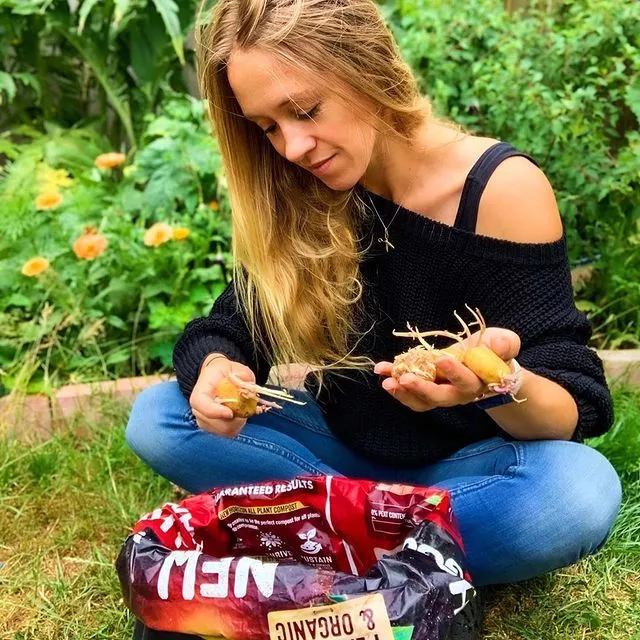 @shegrowsveg
"As gardeners, compost is a big part of our lives, and we use a lot of it throughout the season. And lots of compost results in lots of bags, but what to do with them? Answer, recycle them.
Compost bags have to support a heavy load and so these are seriously sturdy bags, as a result they make fantastic garden waste bags. Able to hold a whole heap load of heavy garden waste and provide a really easy way to transport it to your compost heap or green waste bin. Empty them and reuse, they are tough, they can be used again and again.
While clearing my allotments I would have been lost without all my recycled green waste bags! That sturdy construction also means they make great potato grow bags. Just punch a few holes in the base for drainage, add about 20cm of compost, place your potatoes on top, cover them with more compost and water. Now just wait for those little green tips to pop up above the soil and recover, unrolling the bag as you go. Last year I grew all my potatoes in this way.
Finally, when you have reused you're bags as much as possible, take them to a bag recycling point, yes that's right, these can actually be recycled. You will find these at most larger super markets. This year I have exclusively used the Peat Free New Horizon range from @westland.horticulture and I have saved every single bag, nothing has been thrown away."