Our New Horizon All Vegetable Compost is a naturally peat free formulation that gives your vegetables triple the goodness. It contains our revolutionary next generation BIO3. This is our peat replacement technology which has been engineered to outperform all peat-based blends and therefore give fruits and vegetables every reason to thrive. It also contains a base fertiliser which will feed plants for up to 6 weeks. Furthermore, why not combine this compost with top soil to create raised beds and borders for vegetable patches.
100% sustainable, natural and peat-free compost
Specially blended for all types of vegetables
Base fertiliser – feeds plants for up to 6 weeks
Ideal for adding into raised beds
BIO3 formulation – No Green Waste
Try our New Horizon All Plant Compost too for amazing results all around the garden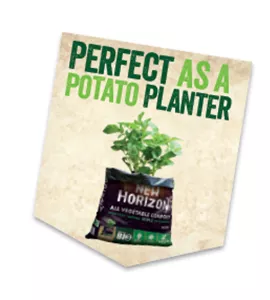 Sizes available
Product Details
How to Use
Tips & Advice
Why Use
100% peat-free – 100% sustainable – Guaranteed results!
New Horizon All Veg Compost has been specially created to be the perfect compost for all vegetables including tomatoes, chillies, root crops and herbs.
Westland BIO3 is a revolutionary new compost formulation engineered to out perform all peat-based blends and starts nourishing the plant immediately. It also has an open structure and micro-nutrients for total plant health, helping to feed plants for longer.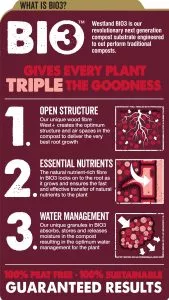 What to Expect?
You will get great results with this compost. After 6 weeks, we recommend supplementary feeding of nutrient hungry plants with a relevant feed such as Westland Boost All Purpose Plant Food.
When to Use
Use all year round from January to December
Use in a well ventilated place and avoid breathing in dust
Always wear gloves when gardening and wash hands after use
How to Use
Potato growing
Did you know, you can grow potatoes by sowing them directly into the compost bag? Find out how to here.
Seedlings / Pricking Out
Hold seedlings carefully to avoid damage
Gently tease the roots from the compost using a dibber or pencil
Space seedlings to allow to grow
Water regularly until ready to pot-on
Potting
Thoroughly water the plant
Gently tap the pot to remove, shake off loose compost
Place plant in a new pot with new compost
Fill gaps with new compost, firm down and water
Frequently Asked Questions
Q. Will my pets or wildlife be attracted to this product?
A. New Horizon All Veg Compost does not contain any ingredients that are attractive to animals
Q. Can I use this compost for my houseplants?
A. New Horizon All Veg Compost can be used with houseplants. However you may want to choose a compost that is more specific to your requirements—for example our Houseplant potting mix
Q. Can I use this compost for fruit as well as vegetables?
A. Yes, you will get great results with this compost. After 6 weeks, we recommend supplementary feeding of nutrient hungry plants with a relevant feed such as Gro-Sure Tomato Food
For any questions or advice, please contact our technical advice line on: 01480 443789 (Mon – Fri 10am – 4pm) or email customerservice@westlandhorticulture.com