Deadfast Ant Killer Plus Powder is a naturally active ready to use powder for the control of crawling insects. It is effective on ants, cockroaches, mites, flies and many more.
Kills ants and the nest
Naturally active from chrysanthemum flowers
Rapid knockdown
Use both indoors and outdoors
Use near food handling premises
Find out more about our Deadfast range
Sizes available
Product Details
How to Use
Tips & Advice
Why Use
Deadfast Ant Killer Plus Powder is for the control of; flies (two-winged), mosquitoes, ants, cockroaches, wasps, earwigs, silverfish and other bristletails, fleas, bedbugs, dust mites, moths, booklice, aphids, caterpillars and sawflies.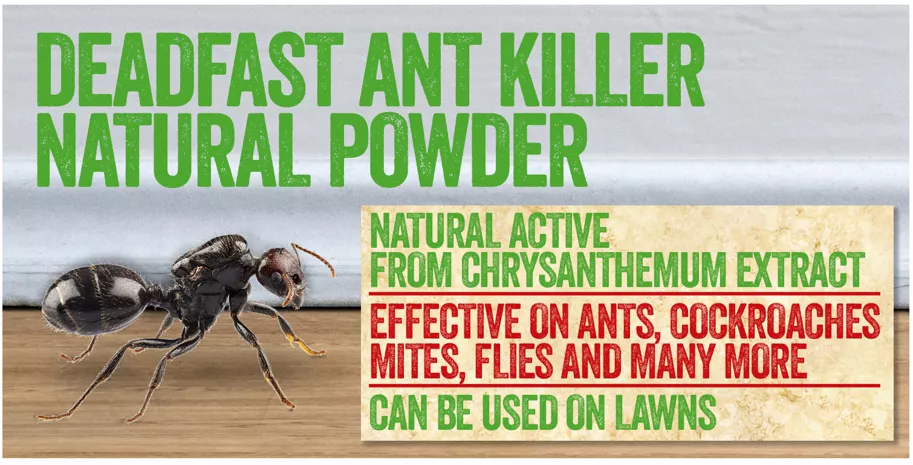 How to Use
Use as a dry powder only.
One application can destroy the nest within 3 weeks.
Indoors
Apply 10g of product per square metre.
Can be used in storerooms, garages and sheds.
Can be used on pet bedding and in living areas.
Outdoors
For dry application. Sprinkle 10g of product on nests around buildings on paved areas. Do not use in windy conditions.
Puff powder gently and directly into the nests or between cracks in paving or decking areas.
For ants nests in lawns, apply 20g per square metre.
Do not empty into surface water or drains.
When to Use
Apply at weekly intervals to nesting and breeding sites as instructed above, in the mornings or evenings when the ants are in the nest.
RISK AND SAFETY INFORMATION
PRECAUTIONS
Do not breathe dust
Do not contaminate foodstuffs, eating utensils or food contact surfaces
Avoid contact with skin
Remove or cover all fish tanks and bowls before application
Cover all water storage tanks before application
Wash hands and exposed skin before meals and after use
Keep only in original container
Keep in a safe place
Keep out of reach of children
All bats are protected under the Wildlife and Countryside Act 1981. Before treating any structure used by bats, consult Natural England, Scottish Natural Heritage or the Countryside Council for Wales.
For Ireland: All bats are protected under Schedule 5 of the Wildlife Acts (1976 and 2000), before treating any structure used by bats, consult the National Parks and Wildlife Service.
STATUTORY CONDITIONS OF APPROVAL RELATING TO USE – FOR USE ONLY AS AN INSECTICIDE
Application rate: apply as required over the area to be treated.
Users must comply in full with all their responsibilities under the Control of Pesticides Regulations 1986 (as amended), including complying with all Conditions of Approval.
READ ALL PRECAUTIONS BEFORE USE
Contains 0.11% w/w Natural pyrethrum Chrysanthemum cinerariaefolium extract powder.
May produce an allergic reaction.
WARNING
Toxic to aquatic life with long lasting effects
Avoid release to the environment
Collect spillages
Dispose of contents and container to an approved waste disposal plant in accordance with all local, regional, national and international regulations.
TO AVOID RISKS TO MAN AND ENVIRONMENT, COMPLY WITH INSTRUCTIONS FOR USE
Use only in accordance with directions on the label.
Store in a cool, dry place away from children & pets.
For any questions or advice, please contact our technical advice line on 01480 443789 (Mon-Fri 10am-4pm) or email customerservice@westlandhorticulture.com