When trying to create the perfect thick and luscious lawn, bare patches can be a problem. They make your lawn appear unsightly and un-cared for. However, a lot of people have bare patches due to them being caused by pets, children, or just general wear and tear. Our video below shows you how to repair patches in your lawn.
Don't worry if you have bare patches, because they can easily be fixed using Gro-Sure Smart Patch. This is a unique blend of ingredients designed to repair any patch in any lawn quickly and easily. The ingredients in Gro-Sure Smart Patch are:
Water retaining granules: This helps to eliminate any local dry patches.
Salt and ammonia neutraliser: This repairs pet urine damage.
Smart aqua gel coated seed: This ensures guaranteed germination.
Premium seed sowing granules: This provides optimum growing conditions.
With these 4 ingredients Gro-Sure Smart Patch is 'guaranteed'* to repair all of the bare patches in your lawn.
Steps to repairing your lawn
Step 1
The first thing to do is carefully remove any weeds, moss and debris. Ensure that you remove the roots of the weeds too.
Step 2
Loosen the bare soil surface with a rake, breaking up any large lumps or compacted soil until it has a fine crumbly texture. This makes it easier for the grass roots to become established.
Step 3
Use the Gro-Sure Smart Patch spreader to apply seed to the patch. Hold the spreader by your side and tilt until the granules start to flow. Apply evenly to the whole patch, at a depth of 2mm. Add some seed to the surrounding lawn to ensure the patches blend in with the existing lawn.
Step 4
Firm down the seed using your feet, rather than your hands. This ensures maximum contact is achieved between the seed and soil.
Step 5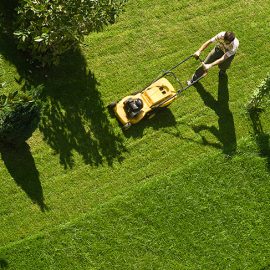 Water the patch thoroughly but be careful not to wash the seed away.
Continue to water the patch once a day, preferably in the evenings. If it is really hot weather, water twice a day. When the grass reaches 7-8cm (2 to 3 inches) tall, mow the lawn on a high setting to remove about a third of the height of the grass.
Before you know it you will have no more patches in the lawn, and you will have a lovely thick lawn.
*Correct conditions are essential to guarantee good germination.