Our Gro-Sure Smart Patch Spreader Box is ideal for repairing patches in your lawn. Lawn patches can be caused by dog spots, play areas, shady spots, as well as dry and sunny corners or even simply high traffic areas. This formulation with its clever Aqua Gel technology* will repair patches in any lawn. The seeds are coated with aqua gel which reduces seed losses due to erratic watering and also soaks up to 400 times its weight in water. Furthermore, Gro-Sure Smart Patch Spreader Box is easy to use with its built in spreader for quick and even application.
Repairs any patch in any lawn quickly and easily
Neutralises dog urine and repairs dog spots
Holds water & nutrients to release back to the seed for successful germination
Guaranteed to grow due to Aqua Gel technology*
Strong root development
25 patches
*when used in accordance with the pack instructions
Find out more on how to repair your lawn patches
Sizes available
Product Details
How to Use
Tips & Advice
Why Use
*This seed is guaranteed to grow when the pack instructions are followed
What to Expect
In good conditions blades of grass can usually be seen in under 2 weeks, however if the conditions are unfavourable this may take considerably longer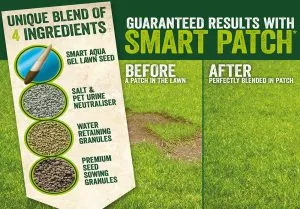 Where to Use
Perfect for repairing all patches:
In high-traffic areas where the lawn is worn away
In and around children's play areas, such as trampolines
In shady conditions, such as under trees
Patches caused by pet urine damage
When to Use
The patching mix may be sown when the soil temperature is between 10-18°C. The best time is April to September.
How to Use
Remove all dead grass, weeds and their roots from the patch. Lightly rake the bare soil, breaking up any hard lumps or compacted soil surfaces
Apply Gro-Sure® Smart Patch Repair to the patch with the built-in spreader up to a 2mm depth
Water with a fine spray to moisten the mixture and activate the seed
You can apply slightly less when covering thin grass rather than a bare patch
Aftercare: You can mow the patch for the first time when the grass is 5-8cm (2-3") high. Do not remove more than 1/3 of the grass leaf at any one time. Feed your lawn after the first 2 cuts.
General Advice
Children and pets need not be excluded from the treated areas
Store in a cool, frost-free place away from children, pets and foodstuffs
Use contents within season of purchase
Contents may settle in transit
Frequently Asked Questions
Q. Can my children & pets go into the treated area?
A. Children and pets need not be excluded from the treated areas
Q. Could I use Patch Fix to cover large areas or bare lawns?
A. Smart Patch is ideal for small patches that are approx. 45cm in diameter. For larger areas we recommend some lawn seeding soil and some fresh lawn seed
Q. Can I use this product on a newly sown/turfed lawn?
A. Yes, Smart Patch Repair can be used on any lawn when there is a patch to repair
For any questions or advice, please contact our technical advice line on 01480 443789 (Mon-Fri 10am-4pm) or email customerservice@westlandhorticulture.com