To truly get your garden blooming this year, New Horizon All Plant Compost will guarantee those great results in your garden. This peat free compost has been specially created using Westland's latest formulation BIO3, giving every plant triple the goodness.
Click here to find out more about BIO3.
Blooming with New Horizon
The formulation boosts plants by starting to nourish immediately. It ensures plants thrive with open structure and micro-nutrients for total plant health. Also, this compost is rich in goodness to feed for longer therefore perfect for season long blooms.
Although this all plant compost is not suitable for ericaceous plants it is perfect for other container plants and flowers including geraniums, petunias, winged begonias and many more.
Use this all plant compost in plant pots, hanging baskets, containers or simply just beds and borders.
Potting Plants
Thoroughly water the plant, gently tap the pot to remove, shake off loose compost
 Place plant in new pot with new compost, fill gaps with new compost, firm down and water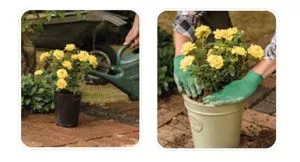 Planting Out
Dig a hole approx. twice the depth and diameter of the root ball.
Place plant in hole with new compost, fill gaps with new compost, firm down and water.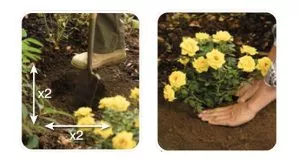 New Horizon have a great range of products, looking to plant vegetables or tomatoes? Check out the New Horizon full range here.