Jack's Magic 50:50 All Purpose Compost has just got even better – now a 50:50 blend. And will quite literally bring magical results all around your garden.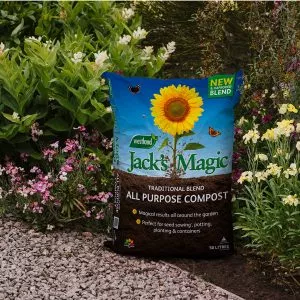 Our new Jack's is enriched with 50% BIO3, our revolutionary new peat alternative, making it our most sustainable Jack's yet but with even bigger, better results. The new and improved formulation not only looks different but performs differently too. Still a gardener's favourite.
Why is Jacks Magic 50:50 New and Improved so special?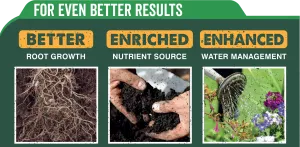 BETTER ROOT GROWTH
Creates a more open, free draining medium allowing roots to grow through the whole volume of compost.
ENRICHED NUTRIENT SOURCE
Creates a more nutrient rich medium that helps plant establishment and sustains them for longer.
ENHANCED WATER MANAGEMENT
Creates a medium that transports water more effectively through to the plant and is easier to re-wet.
Where do you use it?
Jack's Magic 50:50 All Purpose Compost is perfect for use all around the garden and for flowers, fruits and vegetables. Use it for seed sowing*, potting, planting as well as container planting too. Enriched with organic fertiliser, this compost will also feed your plants for the first 4-5 weeks after potting so you don't have to worry. Furthermore, it produces super natural plant growth, as well as exceptional health for plants and blooms.
Use Jack's Magic All Purpose Compost 50:50 and you really will see the magic.
Find out how to use Jack's Magic in your garden for seed sowing*, stunning containers and beautiful borders.
*For fine seeds and best results we always recommend using a dedicated seed sowing compost.
Not suitable for Ericaceous plants.