Tackle weeds when they are actively growing from around April onwards.
If you only have a small garden, the easiest weedkiller to use is a 'Ready to Use' spray, which you simply spray directly on the weeds you want to eliminate.
Ready to Use sprays are available for the following:
They are also available in a variety of sizes from 1L up to 5L.
Our 1L Ready-to-use sprays have a unique trigger designed to kill weeds easily. With a non-drip trigger, dual action nozzle and spray guard you can be sure to kill weeds quickly and safely.
Step 1
Identify the weed to be treated.
It needs to be isolated from garden plants that you want to keep.
This means that you cannot use this weedkiller on weeds within a very tightly cramped flowerbed.
Step 2
Choose a still, dry day when rain is not expected for at least 6 hours.
Point the trigger at the weeds you intend to kill and pump the handle. Fully coat the leaves with the spray, but take care not to let it run off into the ground or drift onto adjoining plants.
The weedkiller will be carried from the leaf, through the stems of the plant and into the root system.
Step 3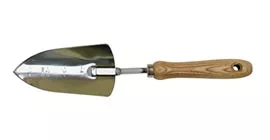 Leave the weed to die down completely before carefully removing with a trowel.
Resolva Xtra Fast and Resolva Path & Drive weedkillers show the effect of the weedkiller working within just a few hours, however, take care not to use this on lawns, as it will kill your grass.
Always read the label and product information before use.