Please note this product has been retired from the range. However, you may still be able to purchase this item online or in store. Should you have any queries or issues with the product please do get in touch. Please see our NEW and improved Westland Triple Care here
Aftercut Triple Care is a lawn treatment formulated to tackle weeds without herbicides. The added iron creates challenging conditions for moss to thrive. Additionally, the balanced nutrient levels create a healthier lawn that looks greener in just 3 days.
Aftercut Triple care is also more sustainable as well as  herbicide-free. It has the complete nutrient package including micronutrients.
Rapid greening in 3 days
Tackles Moss
Effect on existing weeds
Healthier lawn
Use from March to September
Sizes available
80sqm Box
150sqm Box
400sqm Bag
Product Details
How to Use
Tips & Advice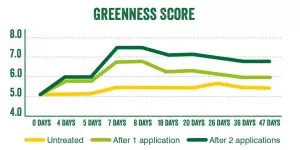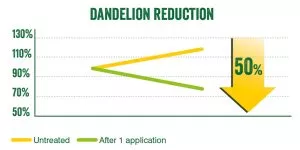 For use on established lawns (+6 months old) when grass, moss and weeds are actively growing (March-September). Apply for the first time in spring. Wait at least 2 weeks for the second application. After that apply every 4-6 weeks. Allow the lawn to grow 3 days before treatment. Apply when the soil is moist and the grass is dry. Do not use during drought, freezing, windy conditions or before heavy rain.
Apply at a rate of 35g/sqm
Always read the product label before use. For full safety information please see the product Safety Data Sheet (SDS).
Do not exceed the appropriate application rate. Increasing the dosage may result in damage to your lawn
Brush off immediately from paving, decking, clothing and footwear to aviod staining/discolouration.
do not wash as may cause staining.
Store in a dry, frost free place away from children, pets and foodstuff.
Wash hands and exposed skin after use.
Gloves are recommended when handling this product
WARNING: Causes serious skin irritation. Causes serious eye irritation.
Do not contaminate water with the product or its container. Do not empty into drains.
For any questions or advice, please contact our technical advice line on 01480 443789 (Mon-Fri 10am-4pm) or email customerservice@westlandhorticulture.com