Aftercut Patch Fix is a unique blend of grass seed and feed designed to fix patches in your lawn quickly and easily. It is perfect for treating high-traffic areas, spots where children's play toys have been, and even where there are dog urine patches. Patch Fix contains a special ingredient that absorbs harmful salts and ammonia produced when pet urine breaks down. It also contains pet urine resistant grass seed varieties. It's a 2 in 1 solution that treats both worn areas and dog spots.
Grass seed and feed
Repairs worn areas and patches
Fix dog spots with pet urine neutraliser
Child and pet friendly
Ideal for play areas and shady areas
Visit our Lawn Hub for all your lawn tips and advice
Sizes available
30 patch box
64 patch box
Product Details
How to Use
Tips & Advice
Why Use
Aftercut Patch Fix repairs patches in lawns that have worn away in and around children's play areas, as well as patches caused by pet damage. It also repairs patches in shady areas such as under trees.
Perfect for repairing all patches
Contains pet urine neutraliser ingredient
Can be used on play and shady areas
Contains specially selected vigorous grass seed varieties
With built-in applicator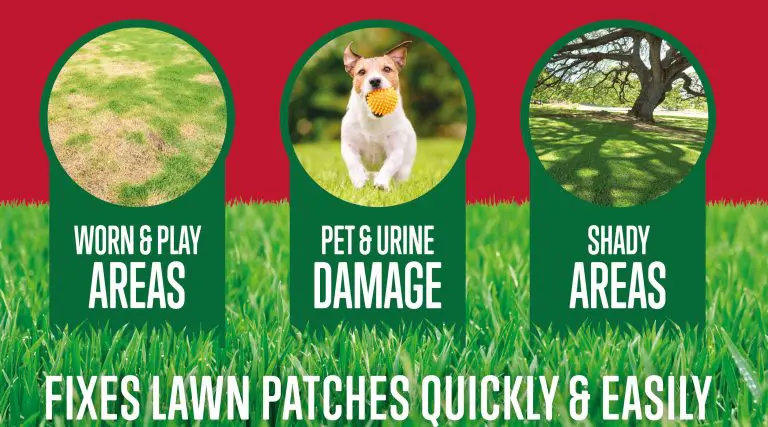 It's as easy as 1, 2, 3
1. Where and When to use
Can be used on young and established lawns
Apply from March to October
For best results apply to the lawn after mowing and remove the clippings for better seed-soil contact. Ideal for use after scarification
DO NOT apply in freezing conditions
Perfect for repairing all patches:
In high traffic areas where the lawn has worn away
In areas damaged by pet urine
In shady areas, such as under trees
In and around children's play areas, such as trampolines
Following weed and moss removal
2. How Much to use
Large Patch = approx. 45cm diameter. Apply at a rate of 75g per patch
Dog Spot Patch = approx. A4 piece of paper. Apply at a rate of 30g per patch
Top Tip: you can apply slightly less when covering thin grass rather than a bare patch
3. How to use
Preparation
Remove all dead grass, weeds and their roots
Lightly rake the soil to prepare the patch, breaking up any hard lumps or compacted soil surfaces
Shake the box to mix up the contents
Application
Scatter the seed over the patch
Apply to a 2mm depth
Top Tip: applying a little more product to the surrounding lawn will help patches blend in with the existing grass better
It is good practice to wash hands after use
It is always a good idea to store product away from children and pets in a dry frost-free place
Children and pets can use the lawn after application
Aftercare
0 – 1 hours – Water with a fine spray to moisten the mixture and activate the seed
1-14 days – Keep well watered for at least 2 weeks to help grass seed germination
7 days – You can now mow untreated areas of the lawn after 7 days
2-3 weeks – If possible, avoid mowing directly over the treated patch until the lawn seed has established
It is good practice to wash hands after use
It is always a good idea to store product away from children and pets in a dry frost-free place
Children and pets can use the lawn after application
Our Tips for Lawn Success
Mow regularly during the growing season, but don't remove more than 1/3 of the grass leaf
Feed the lawn regularly to replace nutrients
Treat weeds and moss where necessary
Rake and scarify to remove dead moss and fallen leaves
Aerate the soil to help encourage the free passage of water and nutrients
Overseed the lawn to fill thin areas and patches with lawn seed
Water newly sown lawn seed lightly and frequently
For established lawns in drought conditions water heavily and infrequently
Frequently Asked Questions
Q. Can my children & pets go into the treated area?
A. Children and pets need not be excluded from the treated areas
Q. Could I use Patch Fix to cover large areas or bare lawns?
A. Patch fix is ideal for small patches that are approx. 45cm in diameter. For larger areas we recommend some lawn seeding soil and some fresh lawn seed
Q. Can I use this product on a newly sown/turfed lawn?
A. Yes, Patch fix can be used on any lawn when there is a patch to repair
For any questions or advice, please contact our technical advice line on 01480 443789 (Mon-Fri 10am-4pm) or email customerservice@westlandhorticulture.com