Aftercut All in One Autumn has been specially formulated to control moss whilst also keeping your lawn strong as well as healthy over the winter months.
Kills moss effectively
Greens, feeds and also conditions
Stronger root system to improve nutrient uptake
Produces a hard wearing lawn to withstand the winter months
NPK 4-5-15
Sizes available
100m2 box
200m2 box
400m2 bag
Product Details
How to Use
Tips & Advice
USEFUL INFORMATION
Why Use
Iron will kill the moss, creating less competition and healthier, stronger lawn to withstand winter stress conditions
Potassium helps to move the energy to the roots for  essential storage over the winter months
The right amount of nitrogen will green up your lawn while avoiding excessive growth prior to winter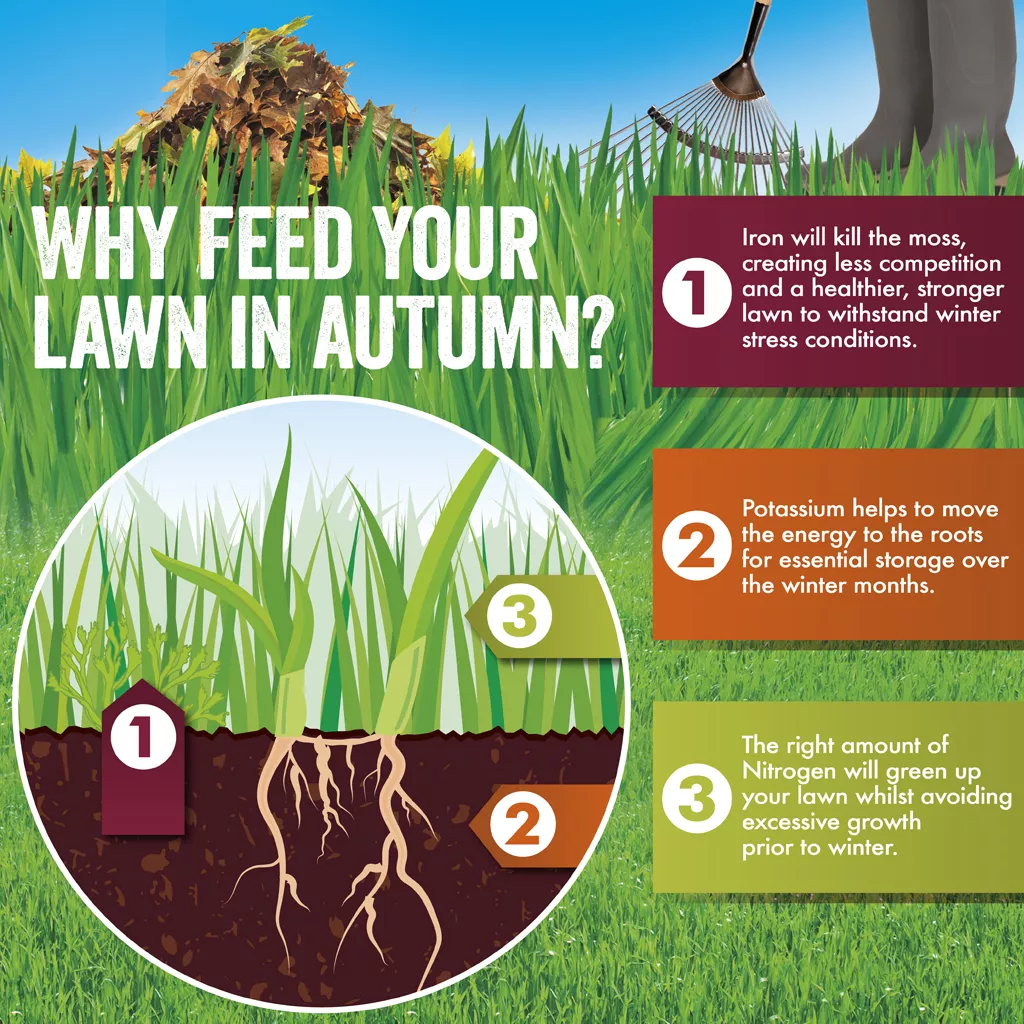 What to Expect
After 7 DAYS the lawn will become greener
Moss will blacken as it dies (any blackening of the grass is only temporary)
Re-treatment may be necessary for heavy moss infestation or if moss returns re-treat 6 weeks later
NPK 4-5-15 –  Contains Iron Sulphate Heptahydrate
When to Use
For use on established lawns, (more than 1 year old) when grass and moss is actively growing and rain is imminent
Apply from September to mid-November. Re-treatment may be necessary for heavy moss infestation, or if moss returns
Apply on a calm dry day when lawns are actively growing, the grass is dry and the soil is moist
Do not apply within 3 days before or 4 days after mowing. Apply on a calm day and do not allow drift onto the foliage of neighbouring vegetation
Do not apply during drought, when raining or when frost is expected
Do not use more than twice in any one season
How to Use
It is good practice to wear gloves when using this product although this is not a requirement
Apply at a maximum individual application of 35g/sq.m Mark out the areas to be treated and apply the granules evenly to ensure complete and even lawn coverage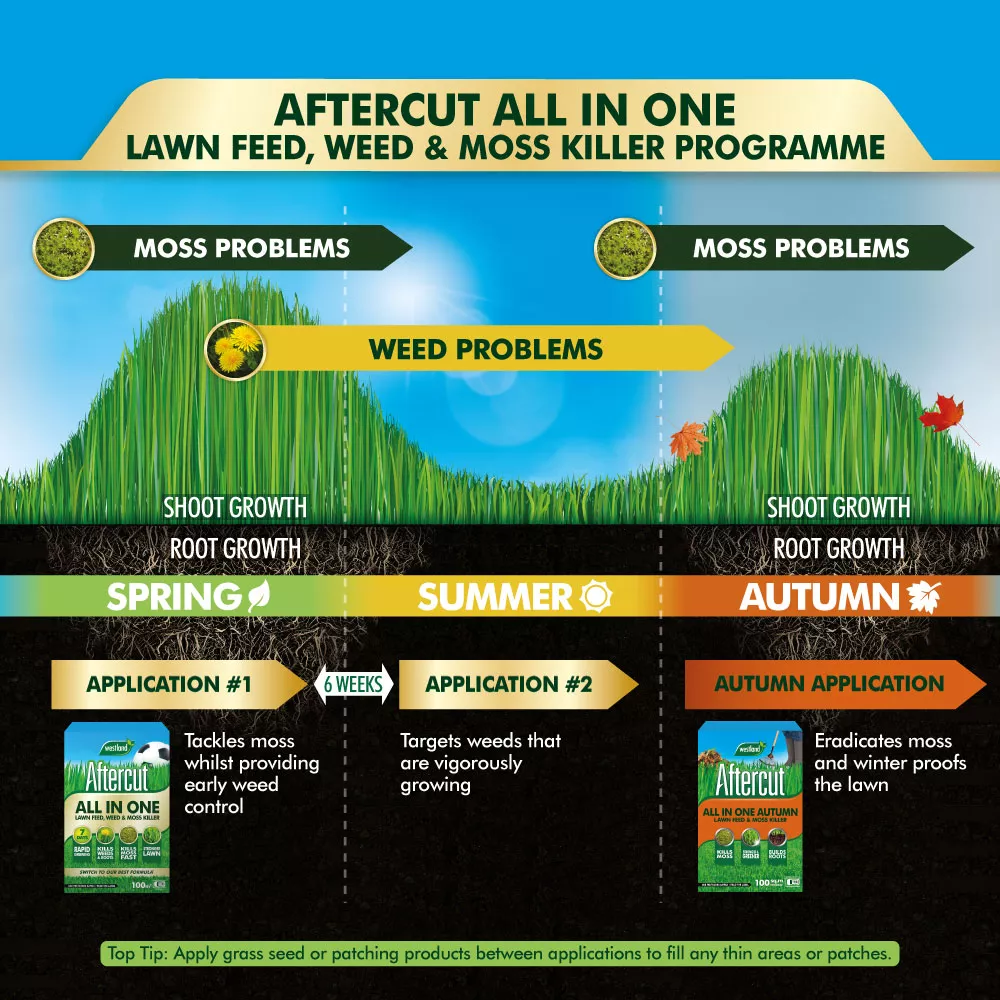 By hand
Mark out the area to be treated using canes or string
With a gloved hand apply 35g per 1sq.m (1m x 1m) evenly over the lawn surface
One handful equals about 35g
By wheeled spreader
Adjust the spreader setting and calibrate to apply the correct rate. See our Spreader Setting Guide for more information on spreader settings
Water granules in well within 48 HOURS if no rain falls. You can mow the lawn 3-4 DAYS after treatment. After 7-14 DAYS rake out dead moss
Fill any bare or thinning patches of lawn with Gro-Sure Smart Patch Repair
To Finish
Brush off granules immediately from hard surfaces, decking, clothing and footwear to avoid staining/discolouration.
Do not wash off with water as will cause staining
Water the lawn within 48 HOURS if no rain falls. After 7-14 DAYS rake out dead moss and weeds
You can mow the lawn 4 DAYS after treatment
Tips to Reduce Moss
Feeding provides the right nutrients to your lawn. A healthy lawn grows strong and lush grass to crowd out moss.
Raking/Scarifying: Remove moss and fallen leaf debris to prevent the build up of dead organic material that encourages moss growth
Watering: water regularly during dry spells to avoid dry patches. It will also keep grass healthy and strong. If a long drought period continues do not water excessively.
Aerating: aerating the soil will help encourage the free passage of water and nutrients through the soil
Follow the above practices with application of Aftercut All In One Autumn and the reduction of moss can be successfully achieved
General Advice
Avoid walking or allowing pets on treated area until granules have been watered in and the lawn is fully dry. Transferring product onto hard surfaces/into the house may cause staining
Avoid overdosing
Avoid contact with flowers, shrubs, fruit, vegetable plants & hard surfaces
Do not use the first 3 lawn clippings for mulching, until composted for 6 months
Do not apply more than twice per season
Use plant protection products safely
Always read the label and product information before use
Frequently Asked Questions
Q. Can my children & pets go into the treated area?
A. Water the product in and allow lawn to dry to prevent the product from being transferred (on paws or shoes) from the lawn to other areas where it may stain.
Q. I have used this product and it has had no effect on the weeds?
A. Aftercut All In One Autumn does not contain any weedkiller. Weedkiller works best then the weeds are actively growing, at this time of year weeds are not so active.
Q. Can I use this product on a newly sown/turfed lawn?
A. We would not recommend using Aftercut All In One Autumn on newly sown or newly laid turf until established for 12 months
For any questions or advice, please contact our technical advice line on 01480 443789 (Mon-Fri 10am-4pm) or email customerservice@westlandhorticulture.com
Safety Information
Protection during/in use
Causes serious eye irritation. If in eyes rinse cautiously with water for several minutes. Remove contact lenses if present and easy to do. Continue rinsing
If any irritation persists get medical advice
Avoid contact with skin
Wash hands and exposed skin before meals and after use
To avoid risks to human health and the environment, comply with the instructions for use
Other General Protection
If swallowed seek medical advice immediately and show this container or label
Environmental protection
This product contains substances which are known to be hazardous to the environment
Do not contaminate waterbodies or watercourses with chemicals or used container
Do not empty into drains
Storage and Disposal
Keep out of reach of children
Keep only in original container
Keep container tightly closed and dry
Keep in a safe place
Keep away from food, drink and animal feeding stuffs
Unused product in its container may be disposed of in the dustbin