Resolva Weed Preventer reduces the need for hand weeding and the use of weedkillers. It controls more than 20 different types of weeds and lasts for up to 6 weeks. Furthermore it is 100% natural formula, so children and pets can use the garden immediately after application. You can manage your weeds the organic way!
100% natural micro-granules
For beds, borders and vegetable patches
Child & pet friendly and non-hazardous to bees
Provides organic nutrients to established plants
See our full range of Resolva weed solution products

Sizes available
Product Details
How to Use
Tips & Advice
Why Use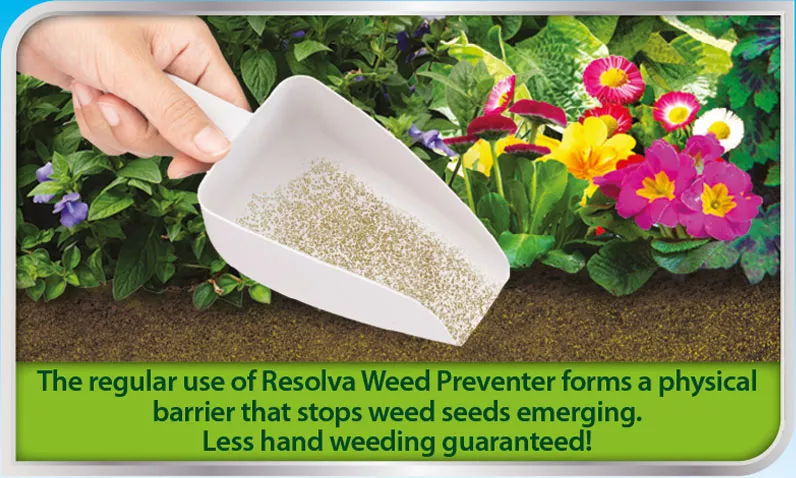 Weedkillers only work on the weeds you can see and it's labour-intensive. The regular use of Resolva Weed Preventer forms a physical barrier that stops weeds emerging.
In addition to this, Resolve Weed Preventer is effective on more than 20 types of weed including Dandelion, Clover, Annual Meadow Grass and Black Nightshade.
What to Expect
Reduced weed emergence and less weeding required for up to 6 weeks after application.

Where to Use
Resolva Weed Preventer can be used on the soil around plants in beds, borders, vegetable patches, raised beds and pots.
Use around established plants, transplants or seedlings with a developed root system (at least 10cm tall).
DO NOT apply on newly seeded areas, as Resolva Weed Preventer will affect all seed emergence.
When to Use
For best results, apply the first time during early spring. A good reference is to apply when Daffodils are flowering.
After the first treatment, re-apply every 4-6 weeks to maintain the weed levels to a minimum.
How to Use
Prepare the area to be treated by removing any debris and existing weeds.
Using the scoop provided, apply evenly across the soil surface around bedding plants, flowers or shrubs at a rate of 200g/m2.
Remove any granules from plant/crop foliage following application.
Rake lightly into soil surface and water-in immediately to activate the product. .
After following these steps, DO NOT water the area for the next 2-3 days. If excessive rain occurs, then a re-application is recommended.
It is safe to use around established plants or transplants with existing rooting.
If sowing plants from seed, do not use until the plants are firmly established with roots and 10cm tall.
Do not apply on newly seeded areas or apply seed to recently treated areas.
General Advice
Resolva Weed Preventer DOES NOT effect existing weeds, so we recommend their removal prior to application.
The granules bio-degrade into the soil releasing plant nutrients. This process will depend on soil type, temperature, rainfall and quantity applied.
Regular application will improve the performance of the product, resulting in less hand weeding.
The product needs to be watered-in to start working.
Can be applied before or after mulching.
Seed can be sown 6 weeks after application. Treatment can re-start once seedlings are established (10cm growth).
Brush product off hard surfaces and clothes to avoid any staining.
Frequently Asked Questions
Q. Is it safe for use around children and pets?
A. Children and pets can use the areas treated immediately after application.
Q. Will this product affect existing weeds?
A. Existing weeds will not be affected, therefore, the ground should be cleared of weeds prior to application.
Q. Can I use this product when sowing plants from seeds?
A. Do not use until plants are established with roots. It is safe to use around transplants and when seedling have developed true leaves.
For any questions or advice, please contact our technical advice line on 01480 443789 (Mon-Fri 10am-4pm) or email customerservice@westlandhorticulture.com