Resolva Xtra Weedkiller Ready to Use is a non-glyphosate systemic weedkiller. It is extremely effective on vegetation and roots of persistent broadleaf weeds in lawns such as daisies, dandelions, clover, buttercups and dock leaves. Resolva Xtra is selective and systemic, and will only kill weeds and their entire root, but not grasses. By killing on contact, it therefore acts by desiccation of target weed.
Glyphosate-free
Kills weeds, not lawns
Will kill entire plant including roots
Controls annuals, perennials and difficult broad-leaf weeds
Ready to use formula for quick use
View our entire Resolva range
Sizes available
1L Ready To Use
3L Ready To Use
5L Ready To Use Power Pump
Product Details
How to Use
Tips & Advice
IMPORTANT INFORMATION
Maximum individual dose: 500 ml product per 25 square metres. Maximum number of applications: 2 per year.
Why Use
Weeds can be a problem around the garden especially if you let them grow. They will compete for the same space and nutrients as your plants and if left untreated they will create seedlings and spread further. Resolva Xtra Weedkiller deals with tough weeds without damaging lawns, whilst also being glyphosate-free. It's a selective and systematic weedkiller, killing only the whole weed and not the lawn. Weeds that can be controlled with Resolva Extra Weedkiller are:
Daisy
Thistle
Dandelion
Clover
Buttercup
Dock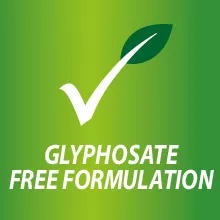 We have created a Glyphosate free formula for gardeners looking for a greener more natural approach to controlling their garden weeds but still want results.
What to Expect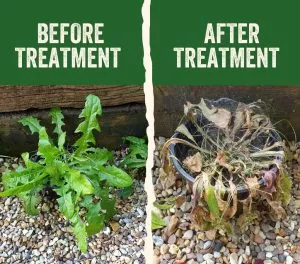 After spraying, weeds may grow vigorously at first. This means the weedkiller is working and the weed will "outgrow" itself, then turn yellow and die completely.
Our clever formulation can also be used on grass as it leaves your lawn undamaged as it only targets the weed and its root.
To keep weeds at bay, repeat applications as necessary through the season.
People and animals can enter the treated area once the sprayed has dried.
When to Use

Use Resolva Xtra Weedkiller between April and September,  when weeds actively grow.
How to Use
Always read the label fully before use
Shake well before use
Turn sprayer nozzle to required sprayer pattern
Spray weed leaves as a light spray directly at weeds until they are wet, but avoiding run-off
Turn nozzle to "X" position after use and before storage
Scorching of grass can occur if more than one squeeze is applied to a given area
Re-treatment may be necessary for well established or difficult to control weeds
Allow an interval of at least 6 weeks between treatments
Following spraying, do not cut grass for at least one day after treatment and ideally leave the sprayed area uncut for as long as possible
The first four mowings of treated grass must be composted for six months before use as a mulch.
For maximum effect, spray when the weeds have adequate leaf area to absorb the weedkiller
Apply when weeds are actively growing and soil is moist, at least 5 days after mowing
Control may be reduced if rain falls within 24 hours of application
Must not be used for purposes or in a manner not provided on the label.
How to use the Power Pump
Simply pump the handle for up to 20 minutes for over 10 minutes of controllable spraying. Furthermore, this 5L weedkiller will cover 250m², equivalent to 25 parking spaces.

Resolva Xtra Weedkiller Ready to Use – No Glyphosate Technical Advice +44 (0)1480 443789 ©Westland Horticulture Ltd, Alconbury Hill, Huntingdon, Cambridgeshire PE28 4HY, United Kingdom Use plant protection products safely. Always read the label and product information before use.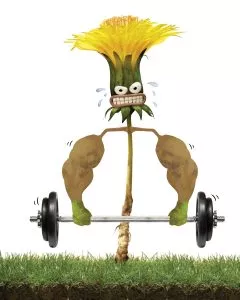 Frequently Asked Questions
Q. Can my pets go into the treated area?
A. For non-grazing animals allow product to dry before allowing pets back into the area. For grazing animals allow weeds to fully die before allowing pets back into the area. This is because weeds that are normally avoided will taste different due to masking of flavours, and as a result, grazing animals may attempt to eat them. Alternatively, treat half the area, then swap over after 6 weeks.
Q. Can I use this on other areas in my garden?
A. Resolva Xtra Ready To Use Weedkiller is for use on lawns only , and is therefore not recommended for other areas. We recommend Resolva 24H or Resolva Xtra Tough for total weedkill, including grasses.
Q. When can I re-sow lawn seed after using Resolva Xtra Ready To Use Weedkiller?
A. Resolva Xtra Ready To Use Weedkiller does not leave a residue in the soil. As soon as the weeds have fully died it is fine to re-seed.
For any questions or advice, please contact our technical advice line on: 01480 443789 (Mon – Fri 10am – 4pm) or email customerservice@westlandhorticulture.com
Risk & Safety Information
Keep out of reach of children
Read label before use
Keep away from food, drink and animal feedstuffs
Do not breathe spray
Avoid contact with skin
Avoid contact with eyes
Do not empty into drains, dispose of this material and it's container in a safe way
If medical advice is needed, have product container or label at hand.
To avoid risks to human health and the environment, comply with the instructions for use.
Protection During/In Use
Use only in well-ventilated areas.
Environmental Protection
Do not contaminate water with the product or its container. Do not clean application equipment near surface water.
Storage and Disposal
KEEP PRODUCT IN ORIGINAL CONTAINER, tightly closed, in a safe place. Dispose of contents/container to a household waste recycling centre as hazardous waste except for empty containers which can be disposed of by recycling. Contact your local council for details.
DO NOT RE-USE EMPTY CONTAINER
For any questions or advice, please contact our technical advice line on: 01480 443789 (Mon – Fri 10am – 4pm) or email customerservice@westlandhorticulture.com