Resolva Weedkiller 24H Ready To Use Power Pump is a ready to use weedkiller.  Its systemic action controls annual and deep-rooted perennial weeds such as Grasses, Couch grass, Docks, Thistles, Nettles, and Dandelions  as well as Bindweed & many more.
Visible effects may be seen after 24 hours. The Resolva Power Pump is ideal for clearing large areas of weeds and with 5 minutes controllable spraying, the Resolva Power Pump does all the hard work, so no more tired hands.
Kills weeds & roots fast
Visible effects after 24 hours
Kills the roots so weeds don't come back
Ideal power sprayer for large areas
5 minute controllable spraying
Contains Glyphosate
Resolva 24H Powerpump formulation
Sizes available
Product Details
How To Use
Tips & Advice
Useful Information
Why Use
Weeds can be a problem around the garden especially if you let them grow. They will compete for the same space and nutrients as your plants and if left untreated they will create seedlings and spread further. Using Resolva Weedkiller 24H RTU gives you the confidence that the weed will be killed fast, right down to the root, so they don't come back!
Resolva Weedkiller 24H RTU controls a wide spectrum of annual and deep rooted perennial weeds including Grasses, Couch grass, Docks, Thistles, Nettles, Dandelions, Bindweed & many more weeds.
The range is available in a number of sizes and formats to meet the needs of different garden sizes and level of infestation. This makes Resolva Weedkiller 24H RTU the ideal product to use to control your weed problem.

What to Expect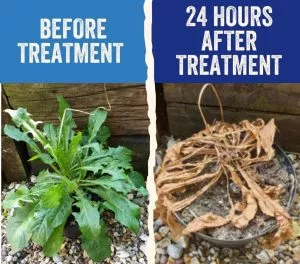 After spraying, visible effects may be seen after 24 hours. The symptoms can be: wilting, leaf browning, desiccation or discolouration.
Do not remove the weed until it's completely dead, ensure you leave weeds for at least 7 days before cultivating.
Planting can be done immediately in neighbouring untreated soil, taking care new plantings are not in contact with the weedkiller.
Resolva 24H Weedkiller RTU contains Glyphosate. Use plant protection products safely. Always read the label and product information before use.
When to Use

Use from April to November, on a calm, wind free day to avoid drift to other plants and avoid rainy conditions as this will "wash away" the weedkiller
Use when weeds are actively growing with a large leaf area to absorb the weed killer spray
Where to Use
For use on unwanted vegetation
Ideal for use in beds, borders or on patios & driveways
Do not use on lawns or near wanted plants unless you intend to kill them
Do not spray on hedge bottoms
How to Use
The weedkiller is absorbed by the leaves. Spray very lightly trying to cover as much leaf area as possible to absorb the weedkiller and avoiding run-off. A single application should do the job!
Do not use on lawns unless you intend to kill the grass.
Always read the full label and product information before use.
Frequently Asked Questions
Q. Can my pets go into the treated area?
A. For non-grazing animals allow product to dry before allowing pets back into the area. For grazing animals allow weeds to die completely and remove them before allowing pets back into the area.
Q. Can I use this on my lawn?
A. NO (unless you are aiming to kill it off). Resolva Weedkiller 24H RTU is a total weedkiller and will kill both broadleaf weeds and grasses —only use it on plants that you want to kill
Q. Can I use Resolva Weedkiller 24h RTU on areas other than paths and patios?
A. YES this product can be used on beds, borders, paths, patios, driveways, waste ground and around the base of fruit trees. It can also be used to kill off lawns before re-seeding or re-turfing. Do not spray hedge bottoms. Do not use on lawns unless you intend to kill the grass.
For any questions or advice, please contact our technical advice line on 01480 443789 (Mon-Fri 10am-4pm) or email customerservice@westlandhorticulture.com
Safety Information
WARNING: Contains 1,2-benzisothiazol-3(2H)-one sodium salt. May produce an allergic reaction.
If medical advice is needed, have product container or label at hand. Keep out of reach of children. Read label before use.
Protection during/in use
Do not get in eyes
Wash hands and exposed skin before meals and after use
Wash splashes off immediately
Environmental Protection
Direct spray away from ponds and other surface water bodies
Do not contaminate water with the product or its container
Do not empty into drains
Storage and Disposal
Keep product away from children and pets
Keep away from food, drink and animal feeding stuffs
Keep product in original container, tightly closed, in a safe place
Dispose of contents/ container to a household waste recycling centre as hazardous waste except for empty containers which can be disposed of by recycling. Contact your local council for details.