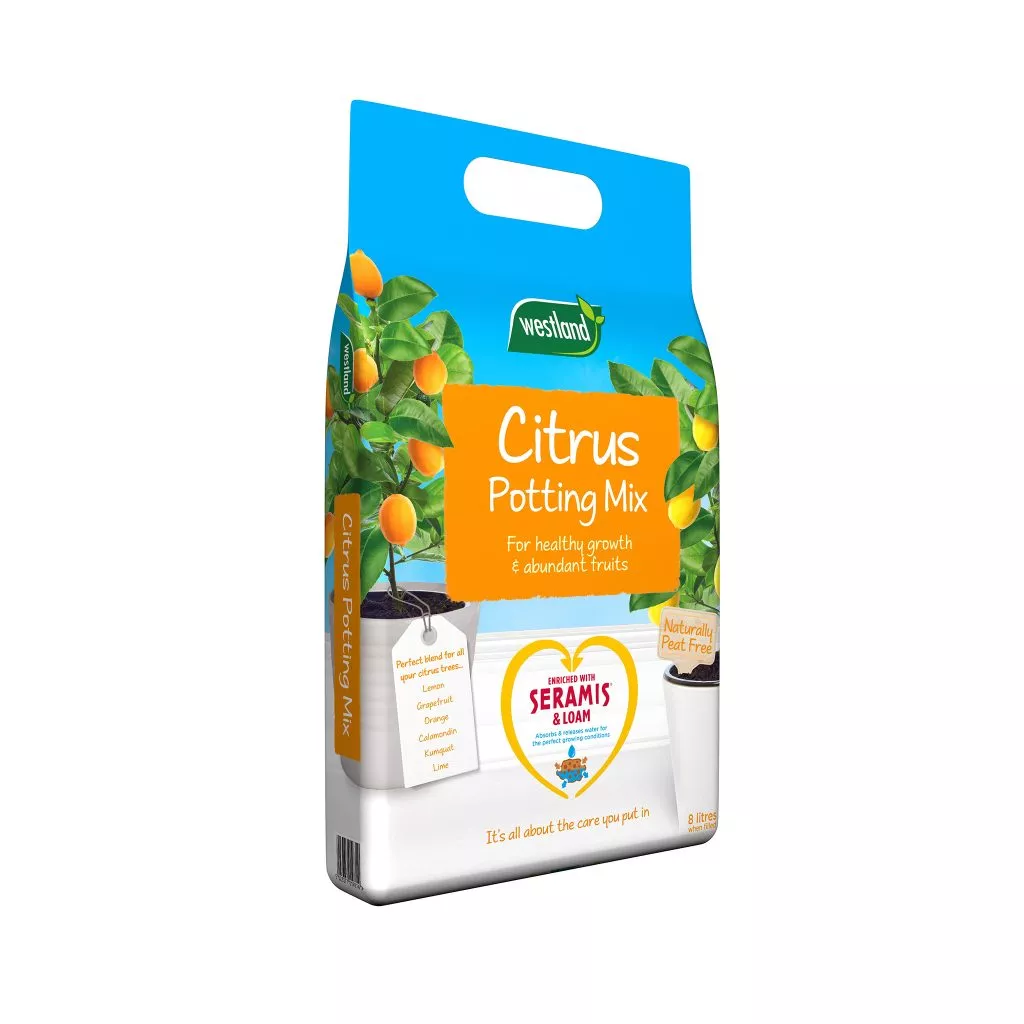 Westland Citrus Potting Mix is a peat free special blend mix offering free drainage and the perfect balance of nutrients for healthy citrus plants. Watch your beautiful trees flourish using our citrus potting mix and feed together.
Contains unique Seramis granules for optimum water as well as nutrient availability
Rich in loam to retain nutrients and also for fruit development
Has the perfect balance of nutrients for healthy citrus plants
Perfect for all citrus trees including Lemon, Grapefruit, Orange, Calamondin, Kumquat and Lime
Use with our Citrus Feed for even better results
View our advice articles and our full indoor product range here
Sizes available
Product Details
How to Use
Tips & Advice
Why Use
When to Use
Can be used all year round
How to Use
Potting on
Citrus trees are best potted on in the Spring before they start active growth but the can be potted on any time during the summer.
Choose a pot larger than the old one, ensuring it has adequate drainage holes
Cover the base of the pot with crocks to ensure good drainage
Place a layer of potting mix in the bottom of the pot and gently tap the old plant from it's pot
Fill in around the edges with more Citrus Potting Mix ensuring the top feeder roots are covered with 2cm of fresh potting mix
Water well and keep in light shade for a few weeks to allow roots to grow
Watering
Water thoroughly when required using rain water where possible
Do not allow plant to stand in water
Spraying the plants daily with water will keep them cool and encourage pollination of flowers
Feeding
Citrus plants are hungry plants and require regular feeding during the growing season
Westland Citrus Potting Mix will supply your plants with all the nutrients they need for the first 6 weeks
Feeding regularly between March and October with Westland Citrus Feed will promote active growth and fruit production
Tips for Better Results
Keep plants in a min temp of 10°C
During winter keep the plants in a cool, frost free place
In summer move plants outside as soon as the risk of frost has passed
Do not place in direct sunlight for the first 3 weeks
General Advice
Store in a dry frost free place away from weedkillers and other gardening chemicals
Reseal bag after use
Use in a well ventilated place and avoid breathing in dust
Always wear gloves when gardening and wash hands after use
Frequently Asked Questions
Q. Can I use this for other plants?
A. Yes this can be used to grow other plants, but best results will be achieved when growing citrus plants
Q. Will this be attractive for my pets?
A. This will not be attractive to most pets as it does not contain any organic fertiliser elements
For any other questions or advice please contact our Technical Advice line on:  01480 443789 (Mon-Fri 9am- 5pm) or email customerservice@westlandhorticulture.com