Bonsai Potting Mix is naturally peat free and formulated for the correct balance of drainage and water retention as well as aeration. This is all required to develop a healthy root system, and is essential for healthy bonsai growth. This mix also contains special water retaining granules from Seramis for optimum water and nutrient availability.
For strong roots and healthy trees
Specialist blend
Open structured compost for healthy root growth
Contains water-retaining Seramis
Perfect for all your bonsai including Money tree, Dragon tree, Umbrella tree, Ficus, Chinese Elm and Ginseng Tea plant
Use Bonsai Potting Mix with our Bonsai Feed for even better results
View our advice articles and our full indoor product range here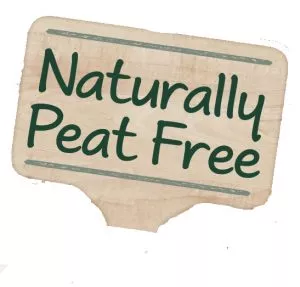 Sizes available
Product Details
How to Use
Tips & Advice
Why Use

When to Use
How to use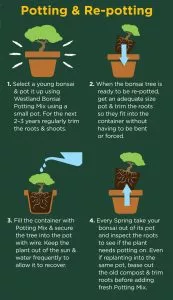 Don't forget to pot top! Adding Hydroleca as a pot topper will provide a decorative appearance, help to minimise over watering and discourage attraction of pests.
Watering
Water once or even twice a day during summer, but less frequently in winter
Always ensure that excess water can drain freely to avoid root damage.
Feeding
Westland Bonsai Potting Mix will supply your plants with all the nutrients they need for the first 6–8 weeks
During spring and early summer, feed your plant with Westland Bonsai Feed every two weeks
Tips for Better Results
Keep plants out of draughts and away from intense heat. Spraying with water at room temperature twice a week and sponging the leaves occasionally to remove dust is also recommended
Nip branches back when they begin to grow otherwise pruning cuts will show up in wood and will be noticeable.
General Advice
Store in a dry, frost free place away from weed killers and other garden chemicals
Reseal bag after use
Not suitable for ericaceous (lime hating) plants
Use in a well ventilated place and avoid breathing in dust
Always wear gloves when gardening and wash hands after use
Frequently Asked Questions
Q. Can I use this for outdoor plants?
A. Yes this can be used for other plants but , but we would recommend early feeding as Westland Bonsai Potting Mix has reduced nutrients to keep the plants compact
Q. Will this be attractive for my pets?
A. This will not be attractive to most pets as it does not contain any organic fertiliser elements
For any questions or advice, please contact our technical advice line on 01480 443789 (Mon-Fri 10am-4pm) or email customerservice@westlandhorticulture.com