If you want healthy, juicy and most importantly, tasty tomatoes then Westland Big Tom Super Tomato Food is the answer. We want you to get the very best results so you can really enjoy your harvested tomatoes. Which is why our feed is designed to do just that!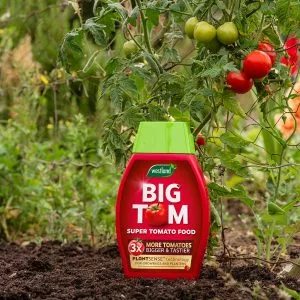 With Westland Big Tom Super Tomato Food, you will see 3 x more bigger, tastier tomatoes*. It contains all the essential nutrients to make great tasting tomatoes and is rich in seaweed to help roots growth healthy and strong. This feed is also perfected for peat free planters and growbags with its Plantsense Technology. Peat free composts are generally quite dry and with this technology, it means it has the perfect water management system for quick and easy absorption.
So why does it perform better?
Root growth boosting biostimulant
Quick and easy feed absorption so they stay in your compost or soil for longer
Wetting agent for perfect water management and better nutrient uptake
Extra Magnesium and Iron for healthier plants
Higher NPK for the best growing results
And to get even bigger, tastier tomatoes, use with our Westland Big Tom Tomato Planter – find out how here
You can even use our Tomato Super Food to feed your courgettes, cucumbers and your hanging basket flowers, as well as in beds and borders. This will give you an increase in flowers or fruit too. It really is a super food!
Here are some Growing Tips to help you along the way
Feed tomato plants with Big Tom when the first flower truss has set for indoor crops, and when second truss has set for outdoor crops
Do not allow tomato plants to dry out – this can contribute to splitting of fruit when re-watered
Remove side shoots for better airflow around plants.
For vigorous plants e.g. cucumbers and courgettes, feed as per tomatoes. Hanging baskets and containers, feed weekly. Beds and borders feed every 10-14 days
After you've harvested your tomatoes, why not have a read of our article to see what yummy recipes you can make with your freshly, homegrown crops.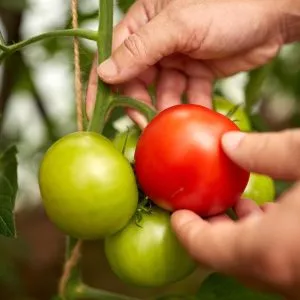 *By weight vs unfed tomato plants