Houseplants have many benefits but its important to know how to water and feed them so they live a long and happy life in your home. Not only do they look stylish and attractive, they also are great for purifying the air in the home as well as having a positive effect on mental well being. Find out more on how to water and feed your houseplants.
Watering
Even though watering seems like a simple task, this is where a lot of people can go wrong when caring for houseplants, by either over-watering or leaving them to become dehydrated. In general, houseplants' potting soil should be kept moist, but not wet. They normally need watering once or twice a week in the spring and summer, but less in the autumn and winter. However, depending on the type of houseplant, this is not always the case.
Below are the houseplants which require special care when it comes to watering.
Orchids: only water once a week with a little amount of water.
Cacti and succulents: require very minimal watering. Only water when the potting mix has dried out.
Citrus plants: water frequently and on a much more regular basis than other houseplants.
Knowing when to water can be made simpler with the Westland Watering Indicator. You can use this watering stick all year round and it is really easy to use. Simply, push the stick into the compost in the pot. This indicator will then tell you when the plant needs more water by changing colour to red. The indicator will be blue when no water needs adding. Once you have watered the plant the indicator should change colour from red to blue within 2 hours.

The type of water that is used on houseplants is also very important. This is because a lot of the plants are sensitive to chemicals and salts that can be found in tap water. Therefore, it is best to water your plants with rain water.
Kent & Stowe Indoor Watering Cans are great for watering houseplants with their long stem spout for easy, targeted watering. They are available in a variety of stylish colours too so will look beautiful placed on a shelf.
Feeding
Feeding houseplants during their growing period is vital to encourage lush and healthy growth. Houseplants should only be fed when they are actively growing and not when they are resting.
In general, the majority of houseplants should be fed every second watering during the growing season (spring and summer), which is probably every 10 to 14 days. In autumn and winter feed every fourth watering as houseplants will require fewer nutrients.
A good way to feed houseplants is with a liquid concentrate feed. These are a great way of feeding and watering your plant at the same time. However, they are only successful if the mixture isn't made too strong or too weak. Westland Houseplant Feed is a great plant food for houseplants as it is enriched with the essential nutrients. It also has an easy measure doser which means all you have to do is squeeze the bottle to fill the dosing chamber. The doser will remove any excess plant food, leaving a 5ml dose which you just add to 1 litre of water. This means you get the right strength of mixture to feed your plants.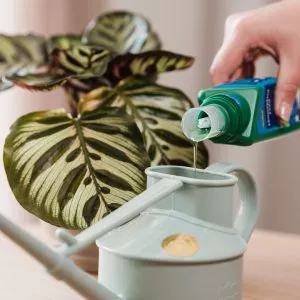 Below is a list of specialist feeds for particular types of houseplants which contain the right amount of nutrients that these specific plants need to thrive.
Following this guidance on feeding and watering makes caring for houseplants simple and easy. It means your home will be full of life with all the stunning plants.