Our modern-day homes can have some airborne 'chemicals' due to many different materials used in furniture, carpets and in paints. Though in very low levels, some houseplants can assist in reducing these from our homes by purifying the air around us.  We have picked out 10 of the best air purifying houseplants from the list that can help make your home not only decorative, but a healthy environment too!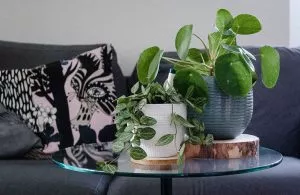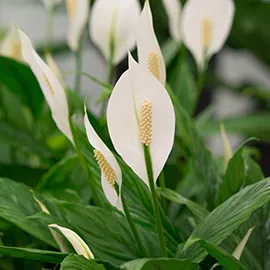 1. Peace Lily
A popular houseplant that blooms indoor is the beautiful Peace Lily. These plants have unusual white flowers and have been identified as one of the top air purifying houseplants for removing harsh chemicals and purifying the air! They work by absorbing the airborne 'toxins' through their leaves, down into the roots and break them down in the soil.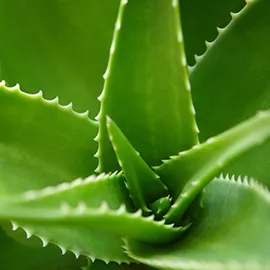 2. Aloe Vera
You are probably no stranger to the notion that Aloe Vera provides many health and beauty benefits due to its healing ability, making it a common plant for the home. However, it also provides air purifying abilities to help some common chemicals founds in household detergents, paint & glue. Aloe Vera works by releasing oxygen and absorbing carbon dioxide during the night – which means the air is being cleaned while you sleep!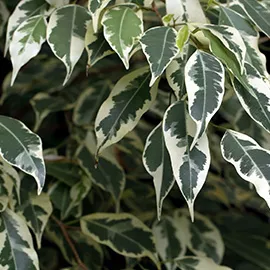 3. Weeping Fig
Some Clean Air Studies have identified that the Weeping Fig is particularly effective when purifying the air from common 'chemicals' found in adhesives and nail polishes, glues and stain removers. The plant can actually be grown both outdoors and indoors, but it makes a very attractive houseplant with its long, glossy leaves.
(N.B It is important to note that this plant can be harmful to animals, so we advise keeping this plant well away from reach of pets.)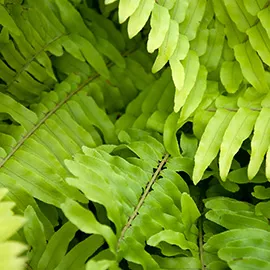 4. Boston Fern
Do you suffer from dry skin in the cold weather? It may be worth investing in one of these stunning indoor plants to help. The Boston Fern has been proven to give a significant increase to the quality of air as they help to restore moisture and act as a humidifier. This unique quality makes them one of the top air-purifying plants on a list in Clean Air Studies.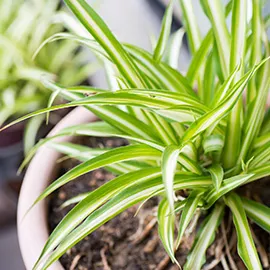 5. Spider Plant
Not all of us possess the green thumb. Also it can be time consuming to look after plants properly if you have a busy lifestyle. If this is you, the Spider Plant could be a great option as they are extremely easy to grow. This houseplant is able to remove carbon dioxide ( the stuff we breathe out into the air around us) therefore creating more oxygen.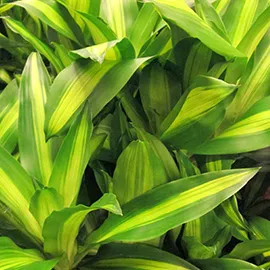 6. Dracaena
It can take a while for these houseplants to grow as the Dracaena can grow to up to 8ft in height, so make sure you place these in a room with high ceilings. These tall houseplants are very efficient in 'cleaning' the air, especially in newly-furnished rooms.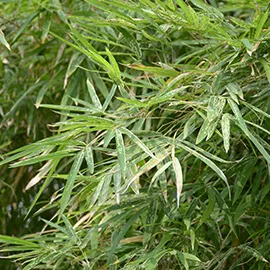 7. Bamboo Palm
The Bamboo Palm is near the top of the list in many Clean Air Studies. It is amazing for purifying the air of certain chemicals associated with paints and new carpets . They do however require a lot of room to grow (up to 12 feet), which is one of the reasons they are great for filtering so much air!
8. Chrysanthemum
Also known as 'Mums', these flowers can provide a beautiful burst of colour into your home; available in a variety of colours ranging from yellow, pink, red and white! Not only do they make a lovely display, but they are also great for cleansing the air. They are also particularly useful in removing chemicals associated with paints and glues.  To keep your Chrysanthemums flowering, make sure you place them in a room that is bright and receives a lot of direct sunlight.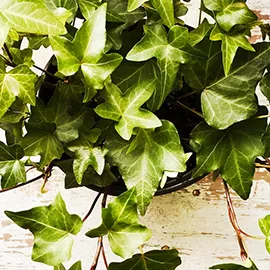 9. English Ivy
Not only does the English Ivy help to cleanse the air, but it also has properties which reduces airborne fecal-matter. Although not the most attractive of topics, airborne fecal-matter can be harmful if left untreated and can spread diseases. This makes the English Ivy a great houseplant for the bathroom!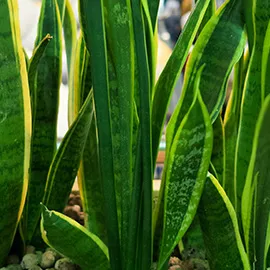 10. Snake Plant
Another plant which gives off oxygen in the night is the Snake Plant, or as you may know it, the Mother-in-Laws Tongue. These plants are can remove a variety of air pollutants, including carbon dioxide as they use this to transpire making it one for the best houseplants for air purification.
Westland have a wide range of composts, feeds and mists to help you give your houseplants the best environment to thrive. See our full range here.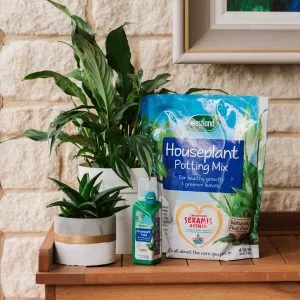 Our beautiful Kent & Stowe Indoor Watering Cans are also perfect for giving your houseplants the nutrients they need and will look stylish in your home too.