May Gardening Advice
May is the month where the cooler, wetter days of spring have ended, the temperature is rising, and the warmth of summer is just around the corner.
All that sunshine and rain means that plant growth is speeding up and flowers are beginning to bloom, bringing bursts of vibrant colour to the garden. Of course, this means lots of gardening jobs in May to keep your outdoor spaces looking tidy, but with the longer, warmer days it's the perfect time to be outside enjoying the fresh air.
May is here and spring is starting to come to an end whilst summer is getting closer. This month is where plant growth seems to speed up and everything comes into bloom. There is lots to do in May to keep your garden looking tidy, to get it ready for the summer months. You should start to see a difference in the weather with more sunshine and the temperatures slowly rising, which means there are lots of opportunities for you to be out in the garden.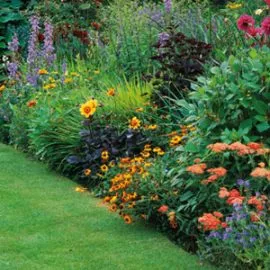 Gardening Jobs Checklist
Hardening off plants – summer bedding
Plants which are raised indoors are delicate and need to be gently acclimatised to cooler outside temperatures before you can plant them outside; this process is called 'hardening off'.
With warmer summer days, May is the perfect month to do this.
Start hardening off by bringing your plants out of the greenhouse during the day and returning them inside during the cooler evenings; this should be done for seven days. After a week, you can start to leave them outside during the night, but make sure you cover them with fleece, so they don't get too cold; this should be continued for seven days. You can now plant them outside as they will be hardy enough to withstand the cooler nights; just keep an eye on the forecast and avoid planting out until the risk of frost has passed.
Tidy up Perennials
Spring-flowering perennials, such as Pulmonarias and Doronicums, will need cutting back in May before they flower, as this will help them to grow better and produce more flowers. If you have any tall, floppy plants, add supports around them to prevent them from becoming too tall and bushy – there are a wide range of ready-made supports available do this.
Tidy up the foliage of spring bulbs
Now that your spring bulbs have died down and turned brown, it's time to clear the foliage away; snap off the dead flower heads before they make seed to help them concentrate all their energy in producing next year's blooms. It's good practice to place a marker by any bulbs in the ground so that you won't risk chopping through them later; you can mark where they are in the ground with short canes or sticks.
Plant hanging baskets and patio containers
To make sure you have lots of beautiful displays of colour throughout the summer now's the time to decide on your hanging basket plants and those for container gardening, and plant them using a specific container compost such as Westland Container & Basket Planting Mix. Add pieces of broken plant pot to the bottom of any containers and hanging baskets you're using to help improve the drainage. Keep an eye on the forecast and protect your pots or hanging baskets if frost is likely. For more information on container gardening, read our handy guide.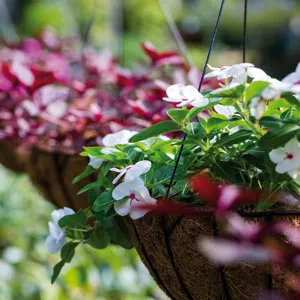 Mulch strawberries
May is the month where strawberries flower and the fruit begin to form which can make a tempting feast for slugs, birds and squirrels! To protect the young fruit, add a layer of net over the plants; if you have a lot of squirrels visiting your garden, wire mesh makes a sturdier barrier. You'll also want to protect the new fruit from the mud to prevent it from rotting; using mulch is the perfect way to do this. The most common type of mulch for strawberries is straw; place this on top of the soil around the plant.
Feed raspberry plants
May is a good time to feed raspberry plants as it'll help to encourage flowering and healthy leaf growth. Floricane types (summer fruiting) respond well to tomato feed, such as Big Tom, on a weekly basis. Primocane raspberry varieties (autumn fruiting) will prefer a high nitrogen food such as sulphate of ammonia, to encourage healthy canes and leaves.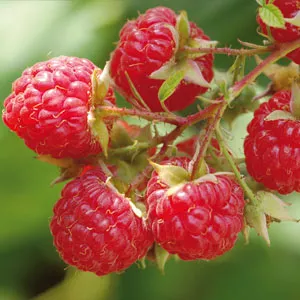 Plant courgettes and marrows
These versatile vegetables are ready to plant into the ground in May. Prepare the soil by digging a hole around 30cm deep and 30cm wide for each plant (leave a 1m space between the holes); dig in plenty of Gro-Sure Farmyard Manure to improve the soil. If no frosts are predicted, you can plant out the marrow and courgette plants, but before you do, you'll need to harden off the plants. Once in the ground, it's a good idea to cover the plants with fleece to protect them from wind, until they're established.
Sow seeds outdoors
Wondering what you can plant in May? If you plan on growing runner beans from seed, now's the time to start planting them in the garden. When preparing the trenches, add supports so that the plants can grow up them. It's worth adding a few extra seeds around each support just in case hungry pests eat any of the seedlings. As the seedlings begin to grow, thin out the weakest ones to allow the healthier, stronger ones to harness the nutrients in the soil.
Sweetcorn seeds can also be planted now; choose a warmish, sheltered site for these as sweetcorn are relatively delicate when growing. Always plant the sweetcorn in blocks of at least 12 plants as this vegetable is wind-pollinated.
You can also plant these vegetable seeds in May:
Tip: protect carrot and cabbage sowings with a fine mesh to prevent attack from pests.
Plant leeks, winter brassica's and other greenhouse crops
If you've planted leeks in your greenhouse, this is a good time to plant them out. Give the leeks extra nourishment by raking an organic fertiliser such as Fish, Blood and Bone, into the soil; it's best to do this a few days before planting out. Don't firm the leeks into the soil when planting but do give them a good drink of water.
You can also transplant winter brassicas that were sowed in April. Make sure the little plants are watered thoroughly before you move them and keep well-watered, especially in hot weather.
Peppers, cucumbers and aubergines should be large enough to plant into their final positions now, too.
Trim and feed topiary
Topiary is a fun and decorative way to add interest to any garden. To keep them neat, tidy and in shape, give them a trim to cut off any stray leaves or stems. Try to trim topiary regularly as it's a lot easier to remove a small amount at a time than taking lots off in one go. Once you've finished making your topiary look perfect, give them a good feed; you can use a specific Buxus feed for any Buxus topiary, alternatively, use all-purpose plant food.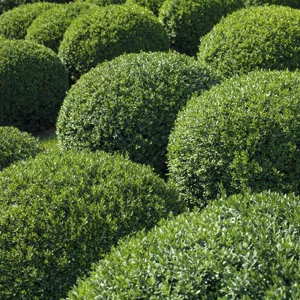 Keep on top of pests, slugs and snails
As the weather starts to become warmer, pests can multiply quickly so it's important to keep on top of them. There are lots of products to keep all kinds of pests at bay; see our full range here. If you have a slug problem, use a product such as Growing Success Slug Killer* which contains a naturally-occurring ingredient and can be used to protect all edible and non-edible plants.
How to control slugs and snails naturally
If you're looking to control slugs and snails without poison, there are a few things you can do:
Use a copper-based tape like Growing Success Slug Barrier around pots to prevent slugs and snails from being able to access the plant.
During the autumn, rake over soil and dispose of dead leaves as this will help to bring slug eggs to the surface which can then be eaten by birds
Make a natural slug trap by scooping out an orange, melon or grapefruit and placing by the plant; check the peel every morning and remove any slugs you find on it
Damp weather is perfect for slugs; as the sun is going down, look around containers, borders paths and patios and remove any slugs you find by hand, placing into a bowl or jar. You can them re-home them away from your garden.
Last chance jobs
Bulbs to plant in May
With the summer nearly upon us, if you haven't finished planting your summer flowering bulbs such as dahlia's and gladioli, this is really the last opportunity you'll have.
Check that your bulbs are healthy and throw away any that are rotting or soft to the touch.
Sow half-hardy annuals
There's still time to sow hardy annual seeds such as sunflowers directly where you want them to flower. Prepare the ground by removing all the weeds in the area so that the young seedlings don't have to compete against the weeds. For more information on growing sunflowers from seed, read our guide.
*Use plant protection products safely. Always read the label and product information before use.