This new Gro-Sure Visiroot 12 Tray Growhouse is perfect for germinating seedlings and protecting them from cold weather. With its unique shape, this growhouse gives you easy access but will also hold up to 12 standard seed trays. The secure frame with screws for rigidity will keep the structure sturdy; along with the top and ground anchor points for extra stability. It also comes with a UV treated reinforced cover with buckle clips to hold the door open; as well as twin zips for easy ventilation and access.
Furthermore, the innovative Visiroot 12 Tray Growhouse really will give your plants the perfect environment to thrive season after season.
Holds up to 12 standard seed trays
Unique locked frame with screws for strength
Rust resistant coated poles for durability
Top and ground anchor points to secure the frame
Strong, removable wire shelving sections for growing taller plants
Fixing clips to hold the shelves in place
Durable UV treated and reinforced cover with ties for holding the door open and securing to frame
Twin zip for full or partial door opening for easier access and increased ventilation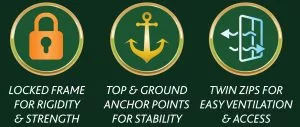 Why not get your growing season off to the best start with our Visiroot Propagation range?
Sizes available
H 160cm x W 90cm x D 41cm