Westland SafeLawn Liquid Lawn Feed is a child and pet friendly solution to grow a healthy lawn. It is 100% natural & certified organic. Ideal for use in the summer months for fast greening results. SafeLawn Liquid Lawn Feed contains slow release fertiliser for long lasting results.
100% organic formulation
Fast greening & long lasting nutrition
Helps prevent weed & moss
Can be used on young lawns
Also see our SafeLawn Granular Feed
NPK
6-2-4+SEAWEED
Sizes available
Why use SafeLawn Liquid Lawn Feed?
How to use
Tips & Advice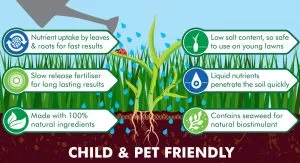 Apply every 1-2 weeks from March to October when the grass is actively growing. Do not apply when frost is expected.
Shake well before use.
Fill watering can sprayer with the following rates:

Apply evenly across the lawn